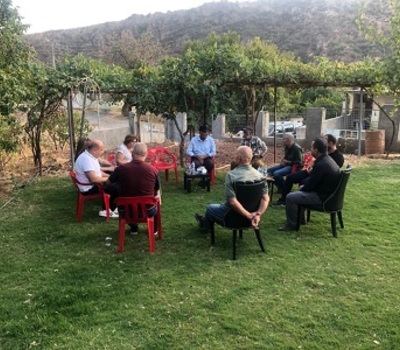 A delegation of Hammurabi Human Rights Organization is making a visit of inspection to some Iraqi border villages subjected to Turkish airstrikes.
Mrs. Pascale Warda and Mr. William Warda talk to the people of the villages about the risks they faced
Hammurabi Human Rights Organization appeals the Federal government and the Regional government to meet the demands of the border villages.
On October 2, 2021 a delegation of Hammurabi Human Rights Organization paid a visit to some villages of Iraqi border which were occasionally subjected to Turkish airstrikes.
The delegation included Mrs. Pascale Warda, Chairwoman of the organization, Mr. William Warda member of the board of directors and Public Relations officer.
The delegation visited the border villages and held numerous discussions with some of the inhabitants regarding the exceptional security situation and the extreme risks to which they were exposed due to the bombing and threatening their lives and properties forcing many of them to migrate and flee to safer places.
The residents noted that for many years, there had been no schools, which had let some families to migrate as well the educational staff in their meeting with the visited delegation talked about the school and students conditions pointing out the needs of for schools. Returnees talked about service dilemmas, in addition to the serious effects caused by the Turkish military intervention.
Residents of the village of Juluk talked about the severe shortage of drinking water, and the need to dig a drinking well and complete the construction of the village bridge. International relief organizations took over this achievement, but it was not completed, the residents expressed their need to a hall for meetings and events.
On the sidelines of the visit, Hammurabi Human Rights Organization calls on the Federal government and the Kurdistan Regional Government to take action to protect these villages from the Turkish military aggression and take over the needs of service in addition to end the harm to Iraqi sovereignty as a result of the Turkish interventions.