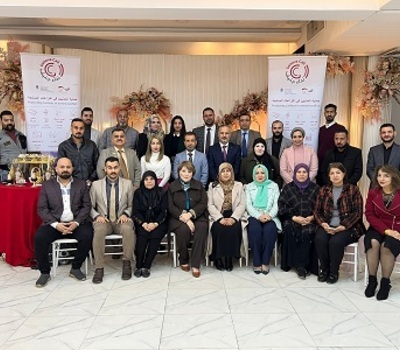 In response to an invitation received by Hammurabi Human Rights Organization
Eng. Mohammed Essam participates in a workshop on the displaced and safe return under international humanitarian law
The workshop schedule contains ten titles besides delivering awards for the participants.
Hammurabi Human Rights Organization participated in the workshop held by Geneva Call Organization on January 27, 2022 in Baghdad, as Engineer Mohammed Essam , Administration Director of the Organization was assigned to participate in the workshop. Participants studied 10 subjects relating to basic standards for the protection of civilians, the concept of displacement, its causes and consequences, and the basic rules of the displacement law, the participants in the workshop also dealt with the basic rules of international humanitarian law, as well as international criminal law, the role of the parties to armed conflict as an engine of displacement, international protection standards, the possible sanctions that can be imposed under international humanitarian law, when displacement is prohibited and permitted , daily life during the period of displacement, how to protect the displaced and to secure safe return or resettlement in other areas.
The workshop resulted in number of results which can guarantee the rights of the displaced in a way that preserves their dignity and provides them with the requirements for a safe return to their homes from which they had been displaced under threat and risks of human rights violations.
Certificate of appreciation awarded to participants by Geneva Call at the end of the workshop.