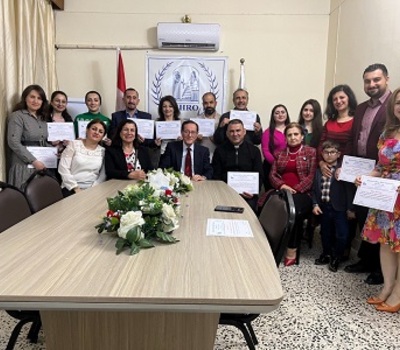 Hammurabi Human Rights Organization - Erbil continues to provide the best services in knowledge and Human rights
Qualifying courses in English language managed and lectured by Engineer Riyath Shaan
The two activists Nadia Younis Majid and Zina Tariq contribute in the preparation of logistical services
24 young woman and man taking lessons according to the educational program of the University of Cambridge
Hammurabi Human Rights Organization branch - Erbil continues to provide the best rehabilitation services in the fields of raising the levels of knowledge of citizens specially the young social groups. One of its achievements is qualifying courses in English language for graduates which concluded on 1 April 2023.
The announcement was made a month prior to its commencement on 21 February 2023 at various social sites, including various churches and schools, as well as the Academic Cultural Centre and Hadyab Society for competencies in Ankawa. The number of applicants exceeded 30 young women and men underwent a competency test and on the basis of the results ,24 were nominated within a schedule three days a week within two timings between the first from 6:00 - 7:30 p.m., the second between 8:00 - 9:30 pm per day over three months.
The project was managed and lectured by Engineer Riyath Hanna Lutfi Shaan, head of the Hammurabi branch -Erbil, with the assistance of the two members of the organization's General Board, Nadia Younis Majeed and Zina Tariq Tawfiq to carry out the required logistic services.
The English qualifying course adopted the American Cambridge programme "Level 1", including English grammar, conversation, reading and verbal correctness that constitutes the most obstacles for scholars, was followed by the misreading and verbal method of teaching English in Iraq's schools and according to the results achieved, participants acquired skills in English that they had not previously, This will reflect positively on their overall skills and multiple employment opportunities.
The celebration of granting certificates was on Tuesday, April 4, 2023, at the organization's headquarters in Erbil.