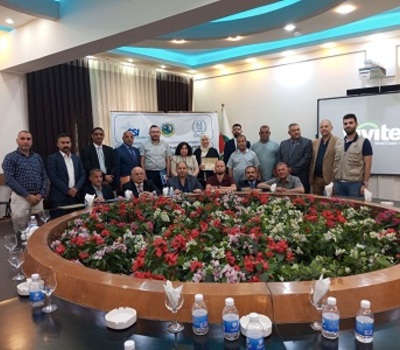 Hammurabi Human Rights Organization held a workshop on public relations and the art of conversation and interaction
William Warda and Bashar Al-Saadi gave lectures on skills, goals and field applications
Dialogues, certificates of appreciation, and expressions of thanks from Mrs. Pascale Warda to the participants
A training workshop was held in Baghdad on the 7th and 8th of June 2023, for six hours per day, with the participation of twenty-five male and female.
The topics of the workshop included capacity building, the art of etiquette, and body language dedicated to cadres working with vulnerable groups in order to develop the art of dealing with others and to promote the values of respect and appreciation.
It is to be mentioned that the workshop was held by Hammurabi Human Rights Organization in coordination with the Ministry of Labor and Social Affairs and the support of Christian Solidarity International (CSI).
The agenda of the workshop included number of topics related to two themes, the first related to public relations, Mr. William Warda, Director of Public Relations in Hammurabi Organization handled the discussion, while Dr. Bashar Al-Saadi, a member of the General Authority of the Organization and an academic at the Iraqi University, handled the second theme on the art of conversation in two versions, listening and speaking.
The workshop began with a welcome speech delivered by Mrs. Pascale Warda, Chairwoman of Hammurabi Organization indicating that public relations and the rules should govern the basics of communication is a moral and behavioral outlet that facilitates communication between people and is necessity in a world governed by the complexities of life.
Mr. Warda addressed public relations from the perspective of the objectives of its applications and is based on the idea of facilitating the state of work in the sense of enhancing construction And so did the general reform, because there was a hindrance to work, but with the group that he works strengthening relationships with others,
In response to the responsibility of public relations for dealing with persons with disabilities and special needs, Mr. Warda stressed on the importance of skill in dealing with social groups in the sense that disability is part of human diversity.
Mr. Warda dealt with the art of general appreciation for women, the elderly and children, the civilized behavior required in hotels, dining, and the basics of reception and hospitality.
Dr. Bashar Al-Saadi, in his lecture, characterized by many applied examples, addressed the art of speaking and listening, stressing that whoever is not fluent in the skill of listening cannot be fluent in correct speaking, considering that both these approaches are complementary on the ground.
The two lecturers adopted more illustrative methods to detail the ideas to the participants within an innovative dialogue approach based on participation among all.
At the conclusion of the workshop and in her second speech Mrs. Pascale thanked the participants for their active interaction, commitment and follow-up with a high degree of interest. She kindly distributed certificates of appreciation to the participants.
.