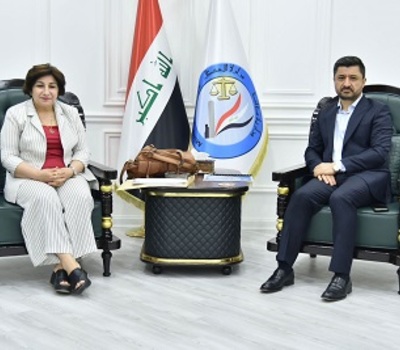 His Excellency the Minister of Justice receives a delegation from the Hammurabi Human Rights Organization to deliberate on a number of human rights issues
The Minister welcomes the delegation and expresses readiness to promote human rights in Iraq
Hammurabi's delegation commends the efforts of the Minister expressing aspiration for new joint projects with the Ministry of Justice
His Excellency the Minister of Justice, ·Khalid Shwani, received on Thursday 13/7/2023 at the headquarters of the ministry a delegation from Hammurabi Human Rights Organization, including Mrs. Pascale Warda, the Chairwoman of the organization, Mr. William Warda, Director of Public Relations, and Dr. Mohammed Kathem Al-Maini, a member of the Board of Directors.
The Minister welcomed the delegation, stressing the Ministry readiness to cooperate with Hammurabi Organization to build the staff capacities of the Ministry of Justice and other governmental cadres regarding the mechanism of writing human rights reports and the contractual mechanisms of the United Nations. He also welcomed any new proposals for the maintenance of laws and legislation related to human rights.
He noted that with his official position in the ministry and on a personal level will support the promotion of human rights conditions in Iraq, and that the Ministry of Justice had a role in passing the enforced disappearance bill and joining another international agreement in the Council of Ministers.
For her part, Mrs. Pascale Warda gave a presentation of the events and activities of the organization in the field of human rights and joint work with the Ministry of Justice. She suggested developing human rights conditions by proposing relevant laws, including enacting a law to regulate the conditions of refugees, developing mechanisms for writing and submitting international reports in accordance with international contractual mechanisms, and the importance of Iraq joining the International conventions on human rights, including the 1951 International Refugee Convention.
The Minister welcomed the proposals, saying, "I am personally with the unlimited promotion and respect for human rights, and with Iraq's accession to the relevant international conventions." The delegation praised the efforts made by His Excellency the Minister of Justice in developing the conditions of prisoners and prisons, and the importance of opening the way for civil society organizations to visit prisons and inspect the conditions of prisoners.
In addition, Mr. Hayder Abdul-Elah, Human Rights Officer of the Ministry of Justice, explained the ongoing cooperation between the Ministry and Hammurabi Human Rights Organization. He also elaborated on some of the issues facing progress in passing a number of laws, also commended the role of the Organization in its cooperation with the Ministry and its role in determining the human rights situation in Iraq. Especially it is a partner with government institutions in the implementation of the National Human Rights Plan in partnership with other civil organizations.