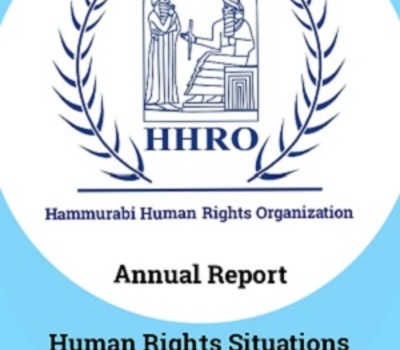 Mrs. Pascale Warda directs to publish the annual report of the Hammurabi Human Rights Organization for the year 2022 on the situation of human rights in Iraq.
The sixty page report dealt with violations of Iraqis human rights.
The report contains conclusions on these situations and opportunities for reform.
William Warda: The issuance of the report at this time came as a result of Hammurabi's keenness to enhance credibility to confirm the validity of the information.
Introduction.
Status of the rights of Iraqi religious minorities.
Yazidies
Outbreak of fires in the camps of displaced camps.
Suicides
mass graves.
Quota and real representation.
Infrastructure in Sinjar.
Security situation in Sinjar.
Minority survivors.
welcome the decision of the Parliament of Luxembourg.
Denial of Identification documents.
Christians.
Abuses on the property and role of Christians.
Tampering affects Christian cemeteries.
Tampering affects Christian cemeteries
Religious freedom , hate speech and exposure to religious minorities.
Baptist Mandeans
Conditions of migration, asylum and internal displacement.
Policies for the return of displaced and refugees.
Illegal Migration
Climate changes and their impact on displacement and migration.
The impact of political and economic tensions and crises on displaced persons and refugees.
The reality of Iraqi women during 2022.
The continuation of family violence without conscience is the main cause of easy killing.
Violence of killing women in Iraq is not less than economic violence.
Economic violence against women
Economic reality and continued deterioration in the lack of reconstruction and development campaigns required 20 years ago.
The social reality in Iraq is bitter with the existence of violent against women in general.
"Silent pandemic."
Suicide is an outlet to escape from justice.
Survivors of suicide.
Marriage of underage marriage in all its forms represents human trafficking and childhood abuse.
Extortion refers to a moral crisis in Iraq, which is daily violence and abuse.
Rape.
Trafficking and kidnapping.
Demonstrations, popular movement and the economy
Assassinations of activists.
Attacks against journalists.
Popular movement.
Unemployment and poverty.
Drought, change and climatic conditions.
External aggressions.
The popular movement in the Kurdistan region.
File of oil.
The reality of education.
The judiciary, prisons and detention centers.
Health status.
Burning hospitals.
defective oversight
.Contractual defect.
Untrained cadres.
Conclusions and suggestions.
Nergal News Network asked Mr. William Warda, Public Relations and Media Officer at Hammurabi Organization, about the significance of the timing in publishing the report after passing five months at the end of 2022. He said: We are keen on credibility and honesty in the information, and this requires more time to verify of that information.
TO READ REPORT CLICK HERE