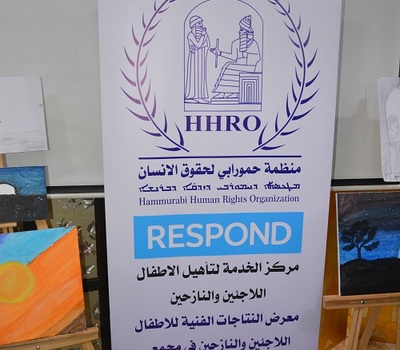 Hammurabi Human Rights Organization held an exhibition of drawings of displaced children and refugees in Erbil.
60 paintings by 20 children from the Nishteman and Al-Sakhra complexes.
The exhibition is one of the activities of Respond Project funded by the European Union, which is being implemented by the Hammurabi Organization.
Hammurabi Human Rights organization held an exhibition of drawings of displaced Iraqi children and Syrian refugees residing in Nishteman and Al-Sakhra complexes in Erbil. The exhibition held on February 7, 2020 at Karlovy Vary Hotel Hall in Ankawa.
The exhibition included 60 paintings drawn by 20 children both girls and boys on topics related to their plight as a result of displacement and asylum and the negative impacts on their lives. The exhibition comes within the framework of the Respond program for rehabilitation and integration through art that Hammurabi Organization is implementing in the framework of the support project offered by the European Union according to the Horizon 2020 program.
At the opening ceremony of the exhibition, Mr. Louis Marqos Ayoub, vice president of Hammurabi Human Rights Organization noted in his speech on the importance of the artistic outcomes of these children in terms of psychological and social treatment, while Mrs. Lydian, assistant director of the Nishteman camp , talked about the mechanisms that were followed in order to allow children to draw what they believed from a vision characterized by innocence and childhood ability to diagnose.
Mr. William Warda, member of the Board of Directors of Hammurabi Organization, Head of Iraqi team of Respond Project, also spoke about the role of art and plastic works in achieving more results that help the displaced and refugees to achieve the required social, cultural, and even psychological integration, adding that he browsed the paintings and found more beautiful and innocent features.
A committee of specialists was formed to select 5 paintings with their esthetic appeal and the effective content to give them prizes and in the same context, prizes and certificates of appreciation were awarded to the rest of Participants.