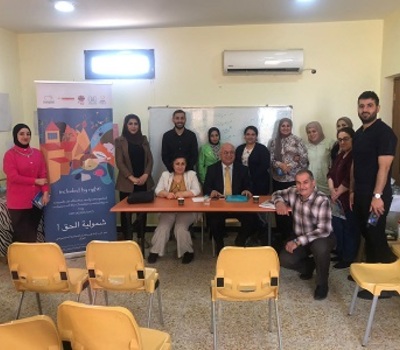 Hammurabi Human Rights Organization is launching a project in Basra, to promote human rights awareness and protect heritage, memory and Christian existence.
Mr. William Warda manages the project giving an explanation on human rights dimensions, and Mrs. Pascale Warda gave a lecture.
Engineer Mohamed Essam is responsible for coordinating between the parties concerned with implementation.
A team from Hammurabi Human Rights Organization implemented a project on raising awareness of human rights, protecting heritage and the Christian presence.
The project was launched in Basra, southern Iraq, with two batches, from 14-20 March for the year 2023. The team included Mrs. Pascale Warda, Chairwoman of the organization, Mr. William Warda, the director of public relations, and the engineer Mohamed Essam, the administration director and project coordinator.
During the project, two educational sessions were organized, the first was in Al-Bashara Primary School for the Chaldean Diocese in Basra and the south, with the participation of the educational and administration staff for a period of three days over 14, 15 and 16 March 2023. The session shed light on the rights of children and people with disabilities and the rights of minorities in Iraq as well as the national and international guarantees to protect these rights from violations by vulnerable groups in Iraq.
The second workshop was held in the kindergarten of the diocese over a period of four days, covering 17, 18, 19 and 20 March of the same year. What was stated in the basic schedule of the project has been implemented.
Training, managing dialogues, discussing human rights issues and ways to protect vulnerable groups in an interactive methodology have rotated by Mrs. Pascale Warda and Mr. William Warda using modern training methods.
The second workshop was attended by 17 participants from teaching staff and the administrative staff of the school, as well as others representing some of the governorate schools in cooperation with Caritas International-Iraq led by Joan Paul II Foundation FGPII and funded by the Italian Agency for Development cooperation.