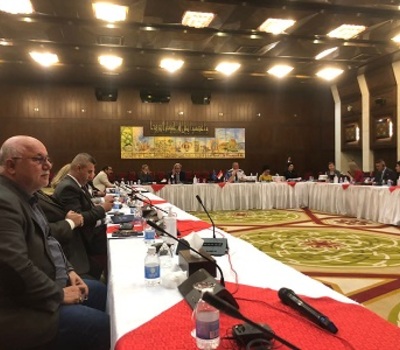 William Warda calls for close relations with civil society organizations for security sector reform
Transparency, disclosure, and successful use of the media are sufficient means to establish a social reform platform
The European Union consultative mission in Iraq held a dialogue session including government, international partners and civil society
Mr. William Warda, Public Relations Officer of Hammurabi Human Rights Organization, suggested that the reform platform for security sector to be linked in an interactive relationship with civil society organizations. His proposal was part of an intervention during his participation in the dialogue session called by the European Union Consultative mission in Iraq, held on Monday March 28, 2022 in Baghdad.
He also called for the interaction of this desired platform with minority communities, noting the importance of field work to identify the concerns of victims of security breaches and violence in general to prevent the exposed security abuses.
In his intervention, Mr. Warda added that it was important to communicate directly and through the media, noting the importance of promoting indigenous Iraqi social values that promote solidarity, partnership and open national cooperation. That was the important way to enhance preventive values to reduce security risks and open more frameworks for constructive cooperation among all components of the Iraqi State on the basis of transparency and disclosure, because covering up the authoritarian security tendencies is an explicit violation of democratic behavior and necessary to legislate a law on access to information to reduce the spread untrue rumors.
The European Consultative Mission held this dialogue session to bring together governmental frameworks, international partners and civil society to formulate rules of action for security sector reform and the adoption of security control and transparency within three axes: human rights, facilitate access to information, communication with society and accountability within the integrity approach.
Participants in the dialogue were distributed into three groups in round tables on these topics and to reach conclusions that could be a guide for action in reforming the security vision on the basis of guaranteeing the dignity of the citizen, rights and aspirations for a secure life.