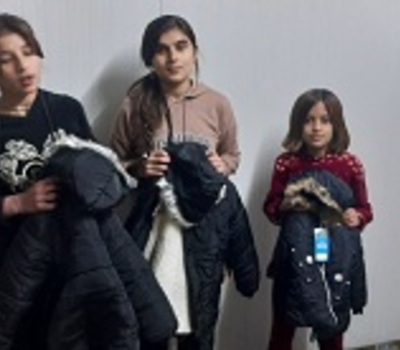 The project supported by Christian Solidarity International include neighborhoods, towns, schools, orphanages and camps in Dohuk, Nineveh and Baghdad
Broad positive responses of project implementation over Christmas
The beneficiaries are Christians, Muslims, Yazidis, Shabak, Syriac, Chaldean Assyrians and others
Hammurabi Human Rights Organization HHRO supported by Christian Solidarity International CSI completed implementing project of distributing winter clothing. The process came in two stages, the first in Ninevh Plain including the towns of Bartella, Batnaya, Telkef, Alqosh, Talskof, Jambour, Khanki, Karamles and the towns of Daoudia and Khank. As for the second stage included the areas of Camp Sarah in Baghdad, and the villages surrounding Mar matti Monastery in Nineveh Plain, which are Mirki, Maghara, Al-Faf and Baraka also included orphaned children in the displaced camps in Daoudia and Khank in Dohuk.
The number of orphaned children and students was cared for the winter clothing has reached 712 boys and girls and due to the low temperatures and the need for cold protective clothing the distribution process relied on a mechanism of precision and speed, besides more than 200 children under five years of age, for whom gifts were distributed, including various toys, diapers, etc.
The two Churches of Mar Yousuf and the Assumption of the Virgin in Al-Mansour also contributed to this event.
Participants in the project management were Mrs. Pascale Warda Chairwoman of the organization, Mr. Louis Marqos Ayoub, vice president of the organization, and William Warda, member of the board of directors and general coordinator of the project, the management of the project was entrusted to Mr. Farhan Yousuf member of the administrative board , number of members of the organization's general board participated in the distribution, Mr. Amir Saed Mal Allah, Khalil Oraha, Warda Al-Awrshi, George Issa Yaqoub, Hassan Hanna, Bassam Chito.As well an initiative was taken by number of volunteers in field distribution process in Karamles, including Fadi Daoud, Raad Saad Marzina, Fener Bassem Benoka, Behnam Waad Qaryaqos.
Hoyathin Cultural Association contributed to the distribution, in the town of Telskof, the while the Al-Amal Organization for the Defense of Women contributed to the distribution process with the participation of its president, Sheikh Barakat Miro Khader, in Khanek camp in Duhok, as well as Mrs. Clara Elia in Al-Daoudia camp. This relief initiative had wide positive feedback on the occasion of Christmas and New Year 2022, and the following is a field statistic of the distributions
Table No. (1) shows the distributions of winter clothes for orphaned and poor children, regions, numbers and dates of distribution in the first stage
| | | | | | |
| --- | --- | --- | --- | --- | --- |
| No. | The village | Governorate | Number of children | Distribution date | Included components |
| 1 | Bartella | Nineveh | 59 | 18/12/2021 | Christian |
| 2 | Batnaya | Nineveh | 64 | 18/12/2021 | Christian |
| 3 | Telkef | Nineveh | 31 | 20/12/2021 | Christian and Arabic |
| 4 | Alqosh | Nineveh | 20 | 20/12/2021 | Christian (The orphanage of Saint Henna and the orphanage of Saint John) |
| 5 | Telskof | Nineveh | 94 | 20/12/2021 | Christian |
| 6 | Jambour | Nineveh | 24 | 21/12/2021 | Christian |
| 7 | Khanki | Duhok | 46 | 21/12/2021 | Yezidis |
| 8 | Daoudia | Duhok | 14 | 21/12/2021 | Christian |
| 9 | Karamles | Nineveh | 86 | 22/12/2021 | Christian and Shabaki |
| | | | 438 children and students | | |
Table No. (2) shows the distributions of winter clothes for orphaned and poor children, regions, numbers and dates of distribution in the second stage
No.

The village

Governorate

Number of children

Distribution

date

Included

components

1

Kamp Sarah

Baghdad

20

30/12/2022

Christian/Arab/Yezidis

2

Khanak camp

Nineveh

75

5/1/2022

Yezidis

3

Mirki village

Nineveh

13

7/1/2022

Christian

4

Maghara village

Nineveh

17

7/1/2022

Christian

5

Al Faf village

Nineveh

5

7/1/2022

Christian

6

Baraka village

Nineveh

3

7/1/2022

Christian

7

scattered areas

Baghdad

19

Yezidis/Arab

8

scattered areas

Nineveh

21

Christian

9

Daoudia village

Duhok

53

10/1/2022

Yezidis

226