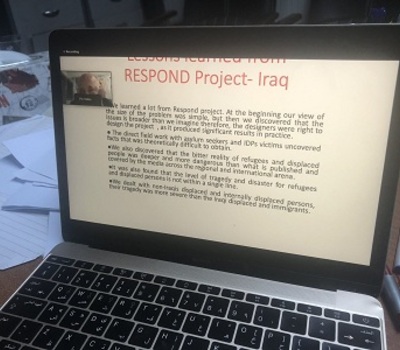 Through the proceedings of a conference on the project "Respond"
Mr. William Warda provides a briefing of ten points on the important lessons and benefits of the project.
Mr. Warda's briefing refers to the extent of the project in his field monitoring of the bitter reality and living of the displaced refugees and the level of tragedy.
Mr. Warda's briefing is further appreciated being a summary of field review and the accurate experience of refugee conditions.
Mr. William Warda, Public Relations Officer at Hammurabi Human Rights Organization, who is involved in the (Respond) project, presented number of important lessons that identified an essential part of his knowledge and information on the events of displacement.
Mr. William Warda's briefing in this regard was part of the Virtual Conference held by the Universität Göttingen , contributed by participants involved in this project and managed by Dr. Confer Andreas and Mr. Soner Barthoma.
Mr. Warda indicated to the following points:
We learned a lot from Respond project. At the beginning our view of the size of the problem was simple, but then we discovered that the issues is broader than we imagine therefore, the designers were right to design the project , as it produced significant results in practice.
Direct field work with asylum and forced displaced victims uncovered facts that was theoretically difficult to obtain.
We also discovered that the bitter reality of refugees and displaced people was deeper and more dangerous than published and covered by the media across the regional and international arena.
It was also found that the level of tragedy and disaster for refugees and displaced persons is not within a single line.
We are sure that some government institutions dealt with this serious event with lot of humor and routine while unconventional measures are needed.
There is a major gap that Iraq had to cover between what to be achieved by international standards in reception, protection and integration, and what is on the ground.
That Hammurabi Organization is the first human rights and civil society mission that went through this experience and was aware of field and theoretical information about refugee rather, this increased its knowledge and contact on the ground through interviews conducted by the work team of refugees.
Hammurabi organization has understood how Europeans think of refugee issues, through working and contacting the experts responsible for (Respond)
The organization was briefed on the work that is concerned with refugees, in particular UNHCR, and the International Organization for Migration in Iraq
Thanks to the project of (Respond), Hammurabi is able to offer help to Iraqi government and its local authorities and provide with expertise with regard to refugees coming to Iraq. It is also able to provide legal advice and contribute to the legislation of refugee laws.
The intervention of Mr. William received more attention and appreciation because it is a summary of a field reality and not a remote office testimony. It is part of what has happened and is taking place regarding the state of displacement and asylum.