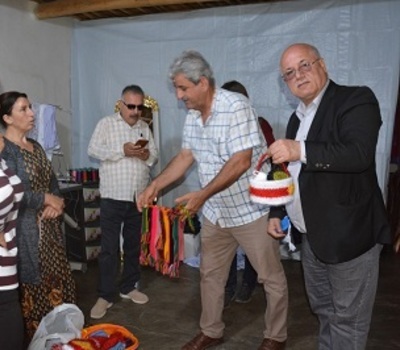 A joint delegation of Hammurabi Human Rights Organization and Christian Solidarity International inspects the progress of service and production projects in Sinjar and Nineveh Plain.
The purpose of the visit is to ensure the progress of the work and to value the accomplished
Twenty service and production projects classified as small projects were carried out by Hammurabi Organization in Sinjar and Nineveh plain for minority children.
A team from Hammurabi Organization, and its partners the Christian Solidarity International CSI, followed up on the field the progress of the completed projects and other projects still underway.
On April 26, 2022, Hammurabi Organization team and its guests went to the Kindergarten (Beit Al Al-tefel) in Bartella, which is run by Dominican nuns, including 65 boys and girls, to inspect the conditions there.
The team briefed on the activities and the educational method adopted and expressed its high appreciation for what is being achieved there, and was particularly impressed by the educational level of pupils and praised Sister Mary Joseph Samman's achievement as Director of Kindergarten and the teacher Performance, and to appreciate the activities of the students, Mr. William Warda, the director of public relations of Hammurabi organization and the supervisor of the program, instructed to award prizes and rewards to them during the graduation day celebration at the end of the school season.
Mr. Amir Saeed, the project manager, described this initiative of the board of directors of the Organization as an outstanding care and assessment of the deserving.
In a related context, a delegation from Hammurabi Organization, including Louis Marqous vice president of the Organization, William Warda, Director of Public Relations, and Farhan Yousuf, member of General Board, accompanied by the delegate of the International Christian Solidarity Organization, visited Sinjar on May 2, 2022. Seeing the projects carried out by Hammurabi Human Rights Organization in finding jobs for citizens through small projects implemented in the complexes of Hardan, Zorafa, Dehula and Qadisiyah,
As part of the visit program, the delegation was briefed on the remaining projects supervised by Hammurabi organization but the tension in the security situation and the presence of military operations there prevented observing other projects in other complexes, the Sinjar Centre, the Dokri areas (Hattin complex), Sunouni and Khaneh sour, and others.
It is to be mentioned that Hammurabi Human Rights Organization has completed 16 projects with the support of CSI to promote the economic realities of citizens, including 15 projects in Sinjar and its aftershocks from towns and villages and one in Dohuk. Hammurabi also implemented four other projects in Nineveh plain funded by other partners in Sheikhan, Shariya and Hamidiya