Organization Definition
The Hammurabi Human Rights Organization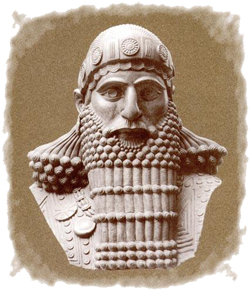 Iraqi, independent, Non-governmental and Non-profit organization, consists of a number of members and human rights activists who believe the human is the highest value which must be respected. They all volunteered to defend the rights and dignity of the Iraqi human regardless of his religion, sect, nationalism, sex, origin, ideas or political affiliation.
Our organization was named Hammurabi because this name holds a number of meanings and Iraqi historical, humanitarian and civilized indications, while the law of the Babylonian monarch Hammurabi, which was issued in his thirtieth year of rule which lasted from 1792 to 1750 BC, is considered one of the most famous legal texts – written and historical – which took interest in regulating the society's life by imposing justice and preserving people's rights with a law that was accepted during that era, until this day, that law continues to be the foundation of the idea of law in the world, that's for its great interest in prioritizing human rights which took place after reuniting Mesopotamia in one state .. in the preface of the law we can witness his commitment to the happiness of the Mesopotamian Babylonian society, its prosperity and the rule of law and order which preserves rights, freedoms and security for individuals.
It takes its name from the Code of Hammurabi, the first code of Laws in History which came from Iraq.
Based in Baghdad with branches throughout Iraq it is non-profit, non-sectarian and non-political. Human rights and humanitarian relief organization.
The Hammurabi Human Rights Organization is governed by a Board of Directors made up of prominent members of the community and is supported by donations from the general public and other interested parties.
Its main work consists of researching, finding and assisting with the promotion of Human Rights in Iraq and in direct assistance to those who have suffered as a result of some Human Rights violation.
The Establishment of Hammurabi Human Rights Organization
After the democratic change in Iraq early summer 2003, the idea of establishing the organization evolved in the governorate of Nineveh under the name Hammurabi by Mr. William Warda and Ms. Pascale Warda, afterwards, a number of Human Rights activists joined them, part of them became the core for the founding committee of HHRO.
In June 2003, those activists got involved in meetings and discussions about the need to establish civil society organizations in order to defend rights and basic human freedoms, especially after the increase in cases of human rights violations exploiting the lack of authority and the deteriorating security conditions due to the political change and its reflection on the status of human rights especially the rights of the smaller components, the religious and cultural minorities and others. In light of those meetings and discussion, the first operating body was formed in the historical province of Nineveh, beginning from the town of Baghdida (Qaraqosh) in October 2003, working in coordination with activists in Baghdad and other Iraqi governorates until it was possible to officially register the organization in Baghdad where the main headquarter of HHRO was located, that's after the stabilization of the administrative institutions and the adoption of laws that would regulate the work of such organizations. The founders of HHRO continued working in this direction until it was possible to hold the constitutive meetings in Baghdad on the 1st of April 2005, and then succeeding in registering the organization as an NGO in Iraq to hold the registration number (IH71134) at the NGO's office linked to the general secretariat of the Iraqi cabinet …
The Hammurabi Human Rights Organization Activities
HHRO has two type of activities:
The first type is related to the organization's human rights goals which could be concluded in two fields:


The first field is monitoring human rights violations and revealing them in regular reports. In addition to raising awareness in the field of human rights, including the annual, seasonal and daily reports about conditions of human rights in Iraq and conditions of Iraqi minorities, HHRO also issues numerous special reports about the conditions of IDPs, Women, Education and other topics, you can check HHRO's reports at the official website (www.hhro.org).
Hammurabi was the pioneer in the field of providing daily reports about the violations of ISIS since its invasion of Mosul and other Iraqi cities, HHRO was the main source of information for many international and regional organizations, it was also one of the first organizations to have documented violations against Yazidi and Christian women and girls and other minorities by conducting hundreds of interviews, HHRO also documents most of the crimes committed by ISIS, especially the destruction of holy sites, churches, monasteries, mosques and Shi'ite mosques in Mosul.
HHRO have managed to hold two training workshops to prepare monitors, by training 45 monitors who received training on monitoring, documenting and reporting, HHRO managed to support its effort to write annual and seasonal reports.
The Second field is related to advocacy campaigns, HHRO managed to launch many campaigns, either by itself or with its partners, HHRO launched campaigns to improve women's jails, issuing a report about this subject after visiting a woman's jail in al-Rasafa, the report had positive results, it resulted in putting this subject on the table of the Iraqi government during 2013, in addition to improving conditions in such jails. Since 2012, HHRO have been continuing its campaign about freedom of belief in Iraq and the Islamization of minors from minority communities file which takes place in case one of the parents converts to Islam, HHRO held two big conferences to amend the Civil Status Law Article 21 Paragraph 3, which concerns the Islamization of minors from non-Muslim minority communities, in addition to its campaign, in cooperation with other organizations, to amend the National Identity Law which took the same turn in regards to minors, in addition to HHRO's role in supporting a change of curriculums which is adopted by the Alliance of Iraqi Minorities AIM in a way that would protect the religious, ethnic and cultural diversity of the Iraqi society.
HHRO have been playing a special role in the campaign which aimed to declare what happened to Yazidies, Christians and other minorities – crimes and human rights violations – perpetrated by the gangs of ISIS, as a Genocide.
HHRO have been keen to continue the campaign to support the means of Christian presence in Iraq, especially after the increase in Christian emigration after 2003, HHRO held two conferences, one of them took place in Baghdad in 2009 and the other in Nineveh – Hamdaniya in 2010, aiming to promote and support Christian presence in Iraq.
HHRO had a leading role in raising awareness among Yazidies about the risks of suicide after the increase in suicide attempts among Yazidies, reaching a dangerous level in 2010-2011-2012. Part of this campaign was dedicated to campaigns that would decrease the risks of breast cancer among women, conducting awareness campaigns and holding workshops in cooperation with the Ministry of Women, aiming to promote knowledge about this subject and explore the ways to avoid being victim to such cancer, the events included university students and young girls, this was part of HHRO's interest in women in general. HHRO also cooperated with the Ministry of Higher Education and Scientific Research on establishing a governmental university in the Nineveh plain in 2010 when HHRO was the pioneer to get a permission from the minister and begin opening departments from the University of Mosul in the district of Hamdaniya while equipping these departments with the necessary technological tools, including two chemistry labs, science, physics, languages and sports equipment. This was part of HHRO's faith that the right to proper education is a basic human right, this initiative also aimed to decrease the number of victims among students heading towards Mosul whom were targeted during the sectarian crimes, which is our duty as defenders of human rights.



The Second type is related to relief and aid activities conducted by HHRO during the past few years, especially after the large displacement wave due to the spread of violence in different locations in Iraq since 2007 and until this day, which has only increased in momentum since June 2014 after the invasion of Mosul, Ramadi, Saladin and other areas and Iraqi governorates by the so called "Islamic State", committing acts of Genocide.
HHRO have offered Relief goods since 2007 to victims of terrorism, widows, orphans and people with disabilities, this work have almost doubled after the invasion of the Islamic State of many Iraqi governorates. For instance, HHRO's relief efforts have managed to reach 9,000 displaced Iraqi families since 2014 from different Iraqi components in locations in Erbil, Nineveh, Duhok, Sulaymaniyah and Baghdad, the provided aid included food baskets, winter clothing, heaters, blankets, covers, medicine, medical equipment and health baskets including sterilizers and necessities for children and women.
During 2015, more than 4717 displaced families received aid from HHRO's 58 relief actions, Duhok's program had 1926 beneficiaries, while Erbil's program included 2456 families, in addition to more than 335 families in Baghdad, HHRO's programs included 606 displaced children – orphans and pupils who received winter clothing in Duhok.
During the first half of 2016, HHRO managed to aid 4179 Iraqi families, with 3841 receiving a hygiene basket, 210 receiving a food baskets and 108 receiving blankets in Baghdad, HHRO also managed to help 500 children by providing diapers and financial support aiming to help with transportation fees for students, also, HHRO in cooperation with its partners, especially Christian Solidarity International (CSI), have managed to offer direct financial assistance to more than 200 survivors of the Islamic State.
HHRO also participated, with the Nineveh Health Directorate, in training 75 people on first aid in displacement camps, HHRO provided special first aid bags.
Surely, HHRO have been part of numerous activities, in cooperation with other organizations in this same field of work … participating in many conferences, seminars and special workshops to raise the level of human rights and humanitarian awareness and in supporting special legislations and laws to build a state of law while adopting standards of integrity, transparency, justice and exposing abuses in local, regional and international forums.
1. Iraqi Constitution – The Hammurabi Human Rights Organization was directly involved in the preparation of the Iraqi Constitution.
2. Iraqi Legal Affair – The Hammurabi Human Rights Organization was and continues to be involved directly in the Iraqi Judicial system assisting in updating laws on the Federal and Supreme Court level in collaboration with Iraqi and international organizations including the Amman Center for Human Rights and the United Nations Assistance Mission for Iraq.
3.Iraqi Prisoners – The Hammurabi Human Rights Organization assists Iraqi Prisoners through the Justice Network for Prisoners to monitor the Human Rights of all Prisoners and was one of the founders of the organization.
4. Iraqi Christians – The Hammurabi Human Rights Organization prepared the first exhaustive report on the violation of the Human Rights of one of Iraq's most vulnerable groups the Christians and continues to update the report and monitor the community.
5. Assistance to Displace in Iraq the Hammurabi Human Rights Organization provides emergency humanitarian assistance to Displaced Persons in conjunction with the Iraqi Displacement and Migration Ministry, CSI and other organizations...
6. Assistance to Displaced Refugees Outside Iraq – The Hammurabi Human Rights Organization works with other international organizations including The Coalition for The Defense of Human Rights in Jordan, The Center for Global Strategies, CSI, The Religious Freedom Coalition and other organizations to assist Iraqi Refugees in Jordan, Lebanon and other areas.
7. Communication – The Hammurabi Human Rights Organization issues regular reports concerning the Human Rights situation in Iraq including condemnation of violence against Iraqis by armed and outlaw groups, the escalation of sectarian and religious violence and other Human Rights violations.
8. Elections The Hammurabi Human Rights Organization in conjunction with the Sun Network and other organizations regularly monitors Iraqi Elections to make sure they are, free and open.
The Hammurabi Human Rights Organization
Ministers Compound
Baghdad, Iraq
Office Number: 5410916 (1) 964+
Iraqna Number: 7901448651 (0)694+
Website: www.hhro.org
E-mail: info@hhro.org
To see the bylaw of Hammurabi human rights organization, please go to the link mentioned below, as PDF file.