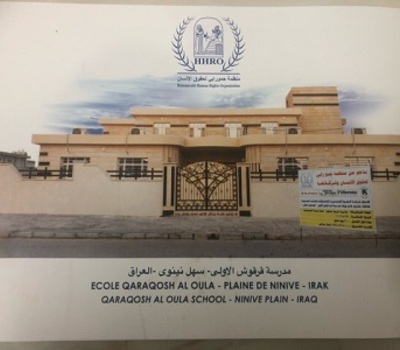 After the rebuilding of Qaraqosh Al-Oula School which was destructed by ISIS ,Hammurabi Human Rights Organization is documenting its major achievement
A colored illustrated Booklet on achievement issued in Arabic, French and English languages, supported by French institutions and implemented by Hammurabi Human Rights Organization
Pictures documenting the stages of lifting rubbles and rebuilding according to the most accurate engineering specifications
Hammurabi Human Rights Organization documented its major field relief achievement, in the district of Hamdaniya - Baghdeda, by reconstructing the Qaraqosh Al-Oula School, which was destroyed by ISIS during invasion the region of Nineveh Plain.
A colored illustrated album was issued by the organization including the rebuilding stages of the school, with French funding, and partnership of four French entities, namely the Île-de-France, the Saint Irene, the International Raoul Wallenberg Foundation and the Mario Foundation.
The mentioned French institutions have expressed their response to Hammurabi's willingness to bear shoulder the burden of carrying out the construction of a school having great symbolism to the people of Baghdeda being the first school built in 1919, the building started with specifications of preserving its historical and academic symbolism being a studying source since the early days of the last century
The illustrated documentary booklet is written in three languages, Arabic, French including the stages of removing the rubble, planning the basics in accordance with the modern engineering specifications, reflecting its known identity for a realistic landmarks to meet the students capabilities and administration and other requirements for an advanced school with twelve classrooms, administration, store, sanitary facilities and other requirements. The Organization has been keen to cooperate and coordinate with the Ministry of Education in Baghdad, the Directorate of Nineveh Education and the Hamdaniya Qaimqamiya.
Currently the school is completely ready to receive students coincide with the start of the new academic year.
Baghdad 21-10-2020