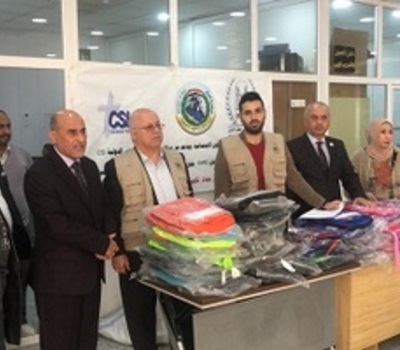 Hammurabi Human Rights Organization distributes 400 school bags with stationery supplies in support of the educational process.
The distribution took place in cooperation and coordination with the Ministry of Labor and Social Affairs.
Hammurabi Human Rights Organization HHRO completed a relief program for distributing 400 school bags with stationery supplies to poor families in Baghdad .The distribution carried out in four phases at the headquarters of the Ministry of Labor and Social Affairs, undertaking the families entitled to this relief in the presence of Mr. Adnan Karim Salman, Undersecretary for Labor Affairs Ministry, Adviser to the Minister and Ms. Mahasin Abdul-Jabbar, Director of the Civil Society Organizations Division and a number of the Ministry's staff; Hammurabi's team consisted of Mrs. Pascale Warda, Chairwoman of the organization ,Mr. William Warda, Director of Public Relations, Dr. Mohamed Kathem, Board Member ,Dr. Saif Adnan, Board Member and Engineer Mohammed Issam, Director of the Organization. This relief program was implemented with the support of Christian Solidarity CSI.
The fourth stage of distribution was on Wednesday, December 21, 2022.
It is to be mentioned that the cooperation between Hammurabi Organization and the Ministry of Labor and Social Affairs has witnessed many joint activities represented the distribution of various relief and human rights programs, as well as partnerships at the level of training workshops to preserve the rights of minorities, the marginalized and other Iraqis whose rights are violated.