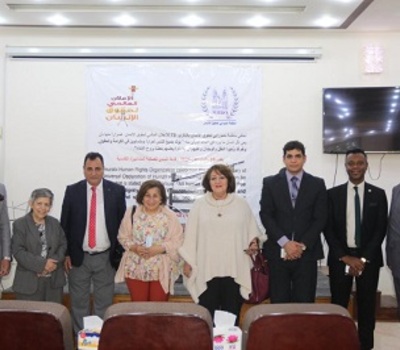 Hammurabi Human Rights organization takes the initiative in honoring number of Iraqis on the occasion of the 73rd anniversary of issuing of the Universal Declaration of Human Rights.
Hammurabi encloses the honoring awards with summaries of their efforts in Iraqi human rights
Hammurabi Human Rights Organization honored number of Iraqi government officials and human rights activists contributed to the promotion of human rights, minorities, displaced and the marginalized persons, and the following are the names of the honorees.
The Governor of Nineveh / Najm Abdullah Abed-Al-Jebouri
He played a leading and outstanding role in supporting stability and facilitating the return of the displaced people to Nineveh after liberation. On this occation Hammurabi Human Rights Organization expresses on gratitude for his continuous endeavor to secure minority rights to evacuate homes that had been raped
The Mayor of Al-Hamdaniya / Esam Bahnam Metti
His great administrative efforts to facilitate and secure the return of displaced persons was clear, he has an important response in cooperation with Hammurabi Human Rights Organization and other civil humanitarian organizations operating within the Hamdaniya district.
The mayor of Sinjar District, Fehed Hamid Omar
A volunteer to run the Sinjar district in a difficult circumstance. He refused to leave Sinjar exclusively to defend the rights of the Yeziedi people, and gain public legitimacy from the citizens of Sinjar for his management reach out for help to the returnees and had initiatives in coordination with Hammurabi Human Rights Organizations in Sinjar district to support return and stability in his area.
Director of the North District (Senoni) Khudaida Joki Hussein
Initiated a volunteer to run the Senoni district (the northern district) of Sinjar. He invested his talents and social relations to serve humanitarian issues and helped the displaced and immigrants, active cooperation with humanitarian organizations, including Hammurabi Human Rights Organization in implementing human rights programs, does not hesitate to provide service to all without discrimination, a brave defender of the oppressed and the oppressed.
Dr. Muhammad Turki Abbas Al-Obaidi
Director of the Human Rights Department at the Ministry of Justice, Hammurabi Human Rights Organization testifies his efforts to raise the capacity of activists and those concerned with human rights at the governmental and non-governmental levels through training and education in the field of human rights and freedoms.
Mrs. Clara Elia Corel Esho
She was distinguished in managing the Dawodiya camp for displaced persons and characterized by rapid response in motivating their return to homes in cooperation and communication with Hammurabi Organization and that displaced persons met by Hammurabi Organization testify to her distinguished role in their service.
.
Engineer Amer Abou Elias
An engineer who managed several camps for the displaced and the migrants, the most recent was Eysian camp. After the events of ISIS the terrorists he worked on a voluntary basis, to meet the needs of displaced. His thankful stances in cooperation with Hammurabi Organization in its projects to support the elements of return and rehabilitation of liberated areas
Dr. Rabiee Yousif Elias Soran
Hammurabi Human Rights Organization testifies for his exceptional efforts to resolve obstacles and overcoming the difficulties faced by Syrian refugees and displaced Iraqis during the occupation of ISIS the areas of Nineveh province when he ran the Al-Sakhrah and Nishtman camps on voluntary basis.
Mr. Rafed Yousif Toma
The Director of Education in Al-Hamdaniya District, made great efforts in providing facilities for the projects of Hammurabi Organization in the fields of education and human rights.
Mr. Hasso Mashko Hasso
A noble person in terms of human rights and standards, has made great sacrifices in facing terrorism who is keen to support the activities of Hammurabi Human Rights organization and other humanitarian organizations offering more facilities to reach citizens who have been subjected to ISIS .
Mr. Barakat Miro Khuder
Director of Al-Amal Organization for Defending Women's Rights demonstrating continuous cooperation and sacrifice to serve the displaced during the closure and quarantine crisis due to the spread of Corona pandemic and for his cooperation with Hammurabi Organization in the implementation of the project to secure the safe return to Sinjar and field follow-up for small and family development projects in Sinjar
Mr. Raad Azzo Sabri
A volunteer to provide and deliver relief rations to beneficiaries during the quarantine and the Corona pandemic, despite exceptional health conditions, especially since he is a person with special needs, and do anything to make others happy, especially the poor and the needy persons
Honorary members
1- Dr. John Ebner
President of Christian Solidarity International. A brilliant field thinker in volunteer work in the service of human rights and has a high degree of humanitarian sense far from any narrow tendencies and a broad voluntary role, he was at the forefront of the teams of Hammurabi Human Rights Organization to distribute relief materials without fear of any security risks and has brilliant diagnoses in promoting human values.
2- Mr. Samir Afram Jarjour.
He has more positions in support of the work of Hammurabi Organization and accompanied the work since its founding. He presented initiatives that play a major role in supporting Hammurabi Organization's relations and its various activities. Hammurabi assures him of many positions that serve the poor and marginalized.
3- Dr. Hamid Shehab Ahmed.
An academic professor who has initiatives and perseveres in the service of human rights, has an outstanding ability to devote his scientific leadership in human rights activities. He also possesses scientific capabilities in carrying out research and studies related to human rights, especially issues related to combating extremism, terrorism and violence, and issues related to supporting the issues of displaced persons.
4- Mr. Yousif Samaan Yassi.
He accompanied Hammurabi Human Rights Organization and an initiative in supporting the organization and generous in giving for human rights and liaison programs in the country and promoting civil peace.
.
Honoring two female figures
Mrs. Hana Edwar
A tenacious feminist activist in her defense of human rights, especially women's rights, well known in her standing up against injustice and defending the marginalized and the oppressed
Mrs. Doaa Ali Ahmed Khamis
She has demonstrated extensive activity and dedication in performing her duties as one of the nursing staff at the height of the spread of the Corona pandemic.
Members of Hammurabi Organization
1- Mr. John Yousif Toma
An active human rights defender, has proven his ability to volunteer. He follows the issues and tasks that enhance the work of Hammurabi Human Rights Organization, having ideas for presenting projects in the field of human rights of great importance.
2-Dr. Bashar Saadoun Hashem.
He has scientific ability and academic skills to devote to humanitarian work ,to raise the capabilities of young people, and he is persistent in the assigned tasks. He is also a major contributor to developing the organization's relations and supporting humanitarian and human rights initiatives. He has an active presence in conferences and workshops and presents important ideas through the development of volunteer work
3- Dr. Khaled Abdel Ghaffar Abdel Karim Ali Al Bayati.
He is prolific in his productivity and is persistent in presenting ideas, as well as having the spirit of participatory work with others.
4- Dr. Mared Abdul-Hassan Al-Hassoun.
He has initiatives and extensive relations to serve human rights and the goals of Hammurabi Human Rights Organization. He has a quick response to activities and has a large stock of legal and legal knowledge and defends it.
5- Miss Nadia Younes Majid Butti.
A female figure of high degree of perseverance in her work and achieved important follow-ups, and responds to the duties and tasks assigned on a voluntary basis..
6- Dr. Bushra Mahmoud Saleh.
An academic keen to defend the rights of women and the marginalized. She has opinions and ideas of high operational value in the development of voluntary and humanitarian work, her scientific and social relations have employed in favor of the efforts of Hammurabi Human Rights Organization.
7- Mr. Abdul-Sattar Faieq Abdul-Jabbar.
A person of conduct carrying out tasks and works assigned to him without any allegations or revelations with a continuous understanding of the work and performance of Hammurabi Human Rights Organization and its humanitarian programs. He has a spirit of collective cooperation and a passion to assist and defend the right of the poor and marginalized.