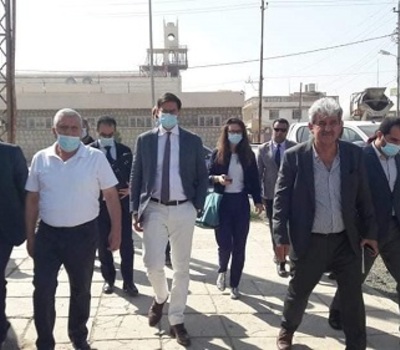 In coordination and cooperation with Hammurabi Human Rights Organization, a French delegation headed by the charge d'affaires visits the District of Hamdaniya
A delegation from the French Embassy visited Al- Hamdaniya District, on Wednesday morning, 23 September 2020.
The delegation included charge d'affaires Jean-Noel Boni, economic adviser Abdelaziz Brahimi and political adviser Mrs. Leila Marghad.
The French delegation was received by Hammurabi Organization represented by Mr. Louis Marqos Ayoub, vice presidentof the Organization,Mr. Yohanna Yousif Tawaya, head of the organization's branch in Erbil , Brigadier Fares Abdel Ahad, coordinator of Nineveh Governor, and Mr Bassam Shito, member of the General Board, Director of the Safe Return Project in Hamdaniyah District.
The French delegation visited Qaraqosh School for boys, implemented by Hammurabi Human Rights Organization funded by number of French organizations and the French region of Auvergne, where the delegation made a tour in the school expressing admiration for the completion in the time of the Coronavirus pandemic. The teams discussed the continuation of cooperation after seeing the reality of service in Hamdaniya.
The visiting delegation accompanied by Hammurabi visited the mayor of Hamdaniya district, where the French delegation briefed the projects implemented by the French government in Nineveh province and the projects that will be implemented during the coming period after completing the legal and logistical arrangements with the government of Nineveh, the Chargé d'Affairs of the French embassy praised the efforts of Hammurabi organization in the implementation of Qaraqosh school, which was destroyed by ISIS, then built according to educational engineering specifications in a fastest time and best implementation, describing its beauty as dazzling.
During the visit the Chargé d'Affairs listen to the mayor and Hammurabi regarding the needs of service projects in the district.
Then the French delegation, accompanied by the delegation of the Hammurabi Organization, left to the Mosul - Erbil point.