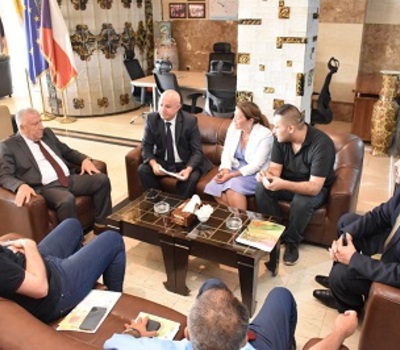 Mr. Yohanna Tawaya holds a consultative meeting with number of governmental officials of Nineveh Governorate and the Kurdistan Region of Iraq
Mrs. Tina Ramirez, President of Hardwired Global, participates in the meeting
Deliberating on projects to reject violence and promote the values of pluralism and social cohesion and the importance of the achievements of Hammurabi human rights organization in this field.
Head of Nineveh Branch of Hammurabi Human Rights Organization Mr. Youhanna Youssef Tawaya, held a consultative meeting with a delegation from the Nineveh Governorate Education, the meeting included Khaled Jumaa Shaheen, the administrative assistant, Baraa Al-Hayali, Training Director, Yasser Al-Jabouri, Director of planning and Ahmed Othman, officer of Training Resource
The consultative meeting also included Mr. Mirwan Naqshabandi, Director of Relations at the Ministry of Endowments and Religious Affairs in the Kurdistan Region, Mrs. Tina Ramirez, President of the Hardwired Global, and Mr. Bassam Chito.
The meeting came on the sidelines of a workshop held by Hammurabi Organization to train teaching staff of Nineveh Governorate to get experiences to enhance solidarity, pluralism and community cohesion, where participants praised this step, considering schools as educational stations to start from, transferring these educational programs to the community.
In this context, Mr. Mirwan Nakshabandi stressed the importance of the project and the possibility to implement in the Kurdistan region of Iraq.