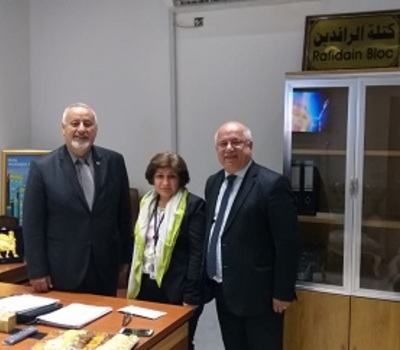 Mrs. Pascale Warda and Mr. William Warda are discussing number of issues with minority deputies to coordinate efforts
Affirmation the right of partnership in sovereign decisions as well as decisions pertaining to minority areas
Mrs. Pascale Warda Chairwoman of Hammurabi Human Rights Organization, and Mr. William Warda, Public Relations Officer of the organization, met minority deputies in the Parliament building on Wednesday, March 27, 2019.
Mrs. Warda met Mr. Emmanuel Khoshaba, head of Rafidain bloc, in his private office in the House of Representatives. The delegation also met with the deputies of other blocs of minorities in the Office of the Special Rapporteur of the House of Representatives attended by (Mr. Burhan Al-deen Ishak representative of the Babylonian bloc, Mr. Hoshyar Kardag of the Chaldean Alliance bloc, and Mr. Nofal Jouda Al Nashi Representative of Sabean Mandaean Parliament), discussing the priorities to be worked on during the current session for the rights of minorities and the use of national mechanisms to protect their rights, which were discussed at the Beirut workshop on 17/11/2018 and work to coordinate efforts to put an end to violations against these national components and how to activate the efforts to remove all the injustice that is still exposed to it, and to work on enacting legislation that preserves its identity and protect its dignity while working under priorities that guarantee the right of partnership in sovereign decisions and decisions pertaining to minority areas and put an end to containment policies and hegemony exercised by some component As well as the necessary benchmarks that should be adopted to achieve justice and equity.