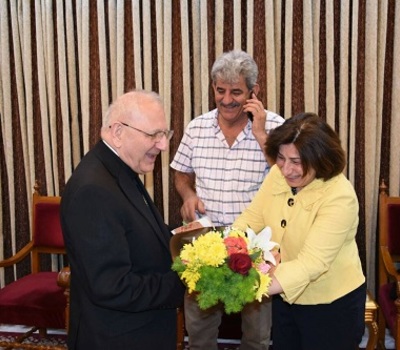 A delegation from Hammurabi Human Rights Organization congratulate His Beatitude Cardinal Mar Louis Sako on the occasion of granting him this new level of faith
The delegation discuss His Beatitude the Cardinal number of issues that concern the Chaldean, Syriac and Assyrian components
The two sides emphasize the importance of a balanced representation of all Iraqi components in the state
A delegation from Hammurabi Human Rights Organization visit the headquarters of the Chaldean Patriarchate in Baghdad, The delegation was received by His Beatitude the Cardinal Mar Louis Sako.
Hammurabi delegation congratulated His Beatitude on the occasion of granting him the rank of Cardinal from His Holiness Pope Francis, excited with a bouquet of flowers.
The delegation included Mrs. Pascale Warda, Chairwoman of Hammurabi Human Rights Organization, Mr.Louise Marqus Ayoub, Vice President of the Organization, Lawyer Yohana Yousef Tawaya, Head of the Organization's branch in Erbil, and Farhan Yousef Samaan, Member of the General Board.
The delegation expressed great happiness at the generosity of His Holiness Pope Francis nomination of the rank upon His Beatitude Cardinal Sako and exchanged views on a number of issues concerning the Chaldean Syriac Assyrian component, as well as a number of issues related to the results of the new parliamentary elections.
The two sides emphasize the importance of a balanced representation of all Iraqi components within the institutions of the Iraqi state away from any marginalization, exclusion or containment while respecting the principles of democracy in the elections and their results.
HB Cardinal Sako thanked the delegation of Hammurabi Human Rights Organization on this good initiative.
Mrs. Pascale Warda had sent a message of congratulation to his Beatitude Cardinal Mar Louis Sako on the occasion, included feelings of joy and blessings.