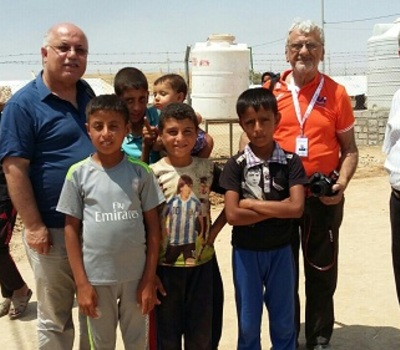 ·       A delegation from the HHRO inspecting the newly established camps southern Mosul
A delegation from the Hammurabi Human Rights Organization visited camps recently built for IDPs near Makhmur in the area of Debaka on Monday 01/Aug/2016, the camps were built in order to host the displaced families fleeing the area of Qayara southern Mosul due to the liberation military operations conducted by the Iraqi forces against the terrorists of the Islamic State, the HHRO delegation, consisting of Mr. William Warda (HHRO's public relations officer) and Mr. Yohanna Towaya (President of HHRO's Erbil Branch), met a number of IDPs and conducted a number of meetings with the displaced families inquiring about their conditions and wondering about what they've experienced while living under the rule of the Islamic State, they talked about the misery they endured, about numerous crimes undertaken by the IS militants, stressing that their salvation lies in the liberation of their territories and their return, the HHRO's delegation, while inspecting the camps, witnessed the severe shortage of general services and necessities of life, this shortage could be seen in the lifestyles of the women and the children.
The HHRO's delegation also accompanied the Italian Vuksev Institution which is concerned in relief and providing aid by delivering the missing items to those who need it, they were distributing milk for children, water bottles, diapers, products which could help alleviate the suffering of these children.
Mr. William Warda (Nergal News Network Deputy) stated, after the visit, that what he saw in these camps reflects much need for care and relief.