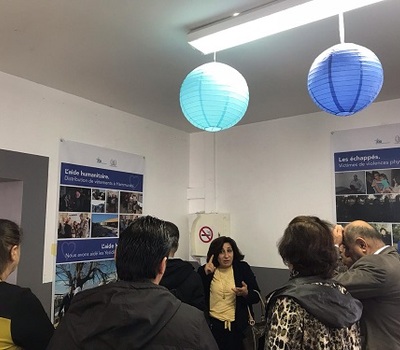 Photos of devastation caused by ISIS, the reconstruction of houses and youth campaigns to remove the rubble organized by Hammurabi Organization with the help of youth volunteer
Hammurabi Human Rights Organization, France held a photographic exhibition at the Hall of the church Lady of Chaldean in the French city of Marseille.
The exhibition was inaugurated in the presence of the priest of the church Father Sagfan Yousef where visitors learned about an important aspect of the conditions suffered by the areas in Nineveh Plain, which was invaded by ISIS between the three years since mid-2014 and over the years 2015-2016 and part of 2017.
The exhibition was conducted under continuous field guidance by Mrs. Pascale Warda chairwoman of Hammurabi Human Rights Organization, on the sidelines of her working tour in Britain and France with the support of Christian Solidarity International CSI-France.
The exhibition included documentary pictures of the effects of destruction and vandalism that long the province of Nineveh especially the cities, towns and villages of Nineveh Plain and Sinjar.
The exhibition also included photos of the relief and human rights activities carried out by the organization in the mentioned areas, including youth participation in coordination with Hammurabi organization in pioneering volunteer operations to remove the rubble and destruction caused by the crimes of ISIS as well as the effects of destruction as a result of the battles that took place in Mosul to purge the city from the criminal gangs.
The exhibition also included a panoramic photo of the reconstruction and rehabilitation of tens of residential houses in Nineveh plain and the city of Mosul completed by the efforts of Hammurabi organization.
In addition, visitors said that the exhibition represents a living document on the extent of the destruction and the size of achievement for reconstruction and the economic, service and social rehabilitation which reflect a very important positive image for the diversity of relief and solidarity carried out by Hammurabi organization as initiatives characterized by more perseverance in cooperation with the above mentioned partners.
In general the exhibition is a media outlet achieved its objectives in the definition of what is happening now in Iraq from the work of a civil organization undertaken to implement more life solidarity projects that exceeds its material potential.