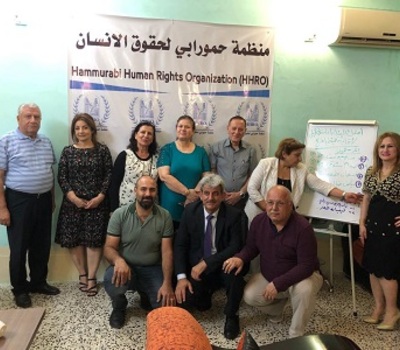 Erbil branch of Hammurabi Human Rights Organization held the second electoral conference and elects a new administrative body
Erbil branch of Hammurabi Human Rights Organization held its second electoral conference on October 6,2021 in implementation of the rules of procedure of the organization and an extension to the Organizations General Electoral Conference held in the last week of May 2021 in Hamdaniyah.
The conference was supervised by a committee including Mrs. Pascale Warda, Chairwoman of the organization, Mr. Louis Marqos Ayoub, vice president of the organization, and Mr. William Warda, public relations officer.
Number of issues were on the agenda of the conference in which participants addressed the progress of the Organization's branch during the last period and prospects of work required as a result of the general electoral conference.
Engineer Riath Shaan was elected as the head of the Organization Erbil branch as a result of holding the elections of administrative body, and the tasks were distributed to serve the organization's work and development.