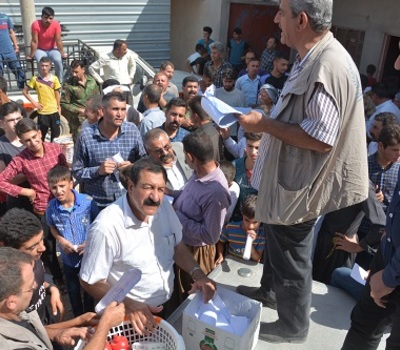 Hammurabi Human Rights Organization includes (560) returned Kakis `families in Wardek village with a relief program that includes hygiene baskets
The number of returned Kakis families which included in Hammurabi's relief program reached (980) families
This relief program comes with the support of Christian Solidarity International Organization (CSI)
The number of Kakis families covered by Hammurabi Human Rights Organization with humanitarian relief aid increased to (980) families. On 27/9/2017, a relief team of the organization went to the village of Wardek in Hamdania district and distributed (560) hygiene baskets "Detergents and Sterilizers" To the families returning to the village, Hammurabi organized a relief campaign for the returned kakis families including the villages of Kizkan and Magidia two months ago . The relief team consisted of Messrs. Luis Marcos Ayoub, Vice President of Hammurabi Human Rights Organization, Amir Saadallah, Stephen Noah and Alan Lewis Marcos members of the General Assembly of the Organization.
A number of village members volunteered to help the relief team distribute these rations and included the Messrs.' (Nabil Khalil Ibrahim, Ghazi Khalil Ibrahim and Erkan Rashid). The Vice President of Hammurabi thanked them for their help in the distribution.
It is noteworthy that this relief activity comes with the support of Christian Solidarity International (CSI), which contributed to some of its activities on the field Dr. John Ebner Executive Director of that humanitarian organization.