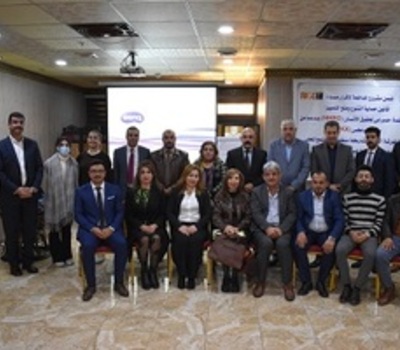 Hammurabi Human Rights Organization launches a workshop on protecting diversity and preventing discrimination
Participants in the workshop are studying the relevant law in order to amend its draft to enhance the values of diversity
Louis Markos Ayub: - The objective of the workshop is to mature a law to ensure the protection of the rights of all Iraqi components on a fair basis
The workshop was held in preparation for a second workshop in order to mature the outcomes of the first workshop
On December 16, 2022, a workshop was launched in Erbil to study the possibility of endorsing number of recommendations and proposals of the Law on the protecting diversity and the preventing discrimination. The workshop was held under a project run by Mr. Louis Markus Ayub Vice-President of Hammurabi Organization and supported by PAX Organization,
The draft law "On Protection of Diversity and Prevention of Discrimination" was organized by 12 organizations concerned with the human rights and legislative realities, as well as the Hamdaniya "Citizens" Group, composed of 6 young members representing all aspects of the judiciary, The work was moderated by Dr. Salah Araibi.
All the articles of the draft law were examined in addition to the recommendations submitted by the "Citizens" team. The participants in the workshop concluded that they had prepared (7) recommendations dealing with the draft on the basis of amending what was stated in the text of the said law, which the participants in the workshop found needed to amend before aforementioned the law on the Iraqi Parliament.
It is expected that Hammurabi Human Rights Organization will hold a second workshop to present the outcomes of the first workshop of recommendations with a number of legal experts and advisors to parliamentary committees (legal, human rights, and civil society).
The forthcoming second workshop will be held in the presence of jurists and academics to mature and adapt the recommendations in line with the provisions of the Iraqi Constitution and the international declarations, charters and instruments ratified by the Iraqi Government. Mr. Yohanna Yousif Tomah, coordinator of the project, described in a statement to the delegate of the Nargal News Network, a step to strengthen the role of civil society organizations in preparing a just human rights law.