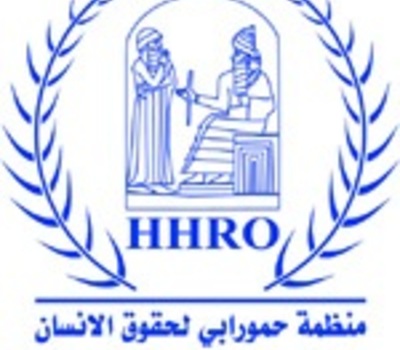 ·       HHRO meeting the political chief at the American consulate in Erbil
A delegation from the Hammurabi Human Rights Organization have met with the chief of political affairs in U.S general consulate in Erbil, Mr. Adam Kotkin, on Sunday 28/08/2016, HHRO's delegation consisted of Mr. Louis Merqus Ayoub (vice-president of HHRO), Mr. William Warda (Public Relations Officer) and Mr. Yohanna Towaya (chief of HHRO's Erbil Branch).
They discussed the current conditions of Human Rights in Iraq, the challenges facing Iraqi minorities – political, economic and humanitarian – in addition to the latest developments and inquiries about the recent events, Mr. William Warda stressed the importance of the minorities' conditions pointing to a number of questions which demand answers such as the possibility of witnessing worst violations against minorities after the liberation of their territories from the Islamic State militants due to the ongoing conflict on what is described as "disputed territories", also wondering about the requirements needed to secure the liberated areas, because much concerns are raising that the same tragedy could take place again especially that those who used to control the area of Mosul, the Nineveh plain, Sinjar … etc, prior to the invasion of ISIS and who retreated leaving the unarmed civilians (Christians, Yazidies, Shabak, Kaka'is … etc) behind to face the terrorists, which allowed ISIS to murder, abduct, torture, displace and destroy their cultural relics and heritage.
Mr. Warda concluded by adding that the fear is to go back to the beginning point for the tragedy to take place again and ISIS to raise again exploiting the fragile security measures. During the meeting, Mr. Louis Ayoub added saying "what happened to the minorities is just a continuation of the crimes which targeted them since the beginnings of the past century based on an organized violent ideology aiming to eliminate their cultural identity which is the origin of Iraq, and that violations against the Christian component haven't only been seen during the days of ISIS but were continues prior to that and HHRO have recorded and documented such violations adding them to its regular reports."
Following that, Mr. Yohanna Youssif Towaya focused on the Human Rights fields pointing to the great injustice practiced against minorities due to the dominance of the large components and its control of the general scenery, in addition to the terrorism crimes endured by these minorities which in general descriptions could be recognized as acts of Genocide.
For his part, the US consul expressed his happiness of such a meeting and his appreciation for the detailed explanations presented by the HHRO's delegation, assuring that he's looking forward to cooperation which could serve Iraqis and achieve peace and prosperity for them.