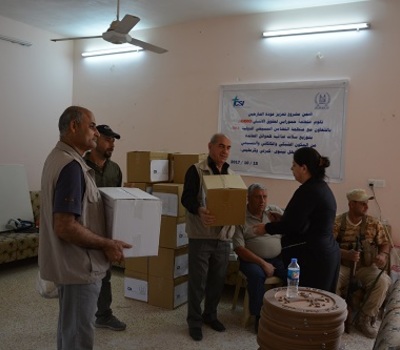 In support of the returnees, Hammurabi Human Rights Organization distributes 230 food baskets in the town of Karamlis.
Thanks and appreciation to Father Thabet Habib the priest of the parish of the Karamlis town , the security forces and the service team for their participating in the distribution.
This relief action comes by the fund of Christian Solidarity International (CSI).
Karamlis town received on 16/10/2017 a relief team of Hammurabi Human Rights Organization, who distribute (174) food baskets to the Christian families and 56 other baskets to Shabak families living in the same town.
This relief action of the Hammurabi Human Rights Organization is funded by the Christian Solidarity International (CSI). The relief team included Mr. Louis Marcos Ayoub, Vice President of Hammurabi Organization, Mr. Yohanaa Yousif Tawaya, Head of the Organization's branch in Erbil, and members of the General Assembly Mr. Faris Jarjees and Mr. George Jacob and Alan Louis Marcos.
The priest of the town's Church Father Thabet Habib , the town's service team and the security persons contributed in this distribution. Mr. Louis Marcos Ayoub the vice president of HHRO thanked the contributors to the distribution.
It is noteworthy that the town of Karamlis is one of the ancient Assyrian cities and three kilometers from the center of Hamdania, that is, it is a suburb of the center of this district, has been destroyed, blown up and burned of most of its houses and other properties, including the Church of the town.