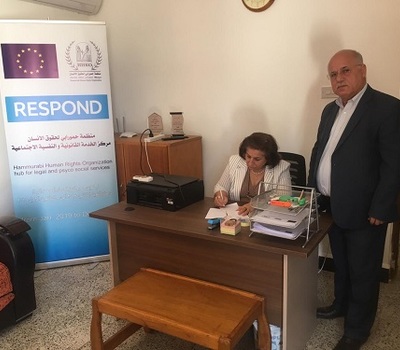 Experienced lawyers who provide advice and assistance on legislation, laws, justice issues and the issuance of documents and identification papers
Many Displaced persons, immigrants and returnees received legal services provided by Hammurabi Human Rights Organization through the assignment of two experienced lawyers to support the issuance of identity cards and property issues, as well as solving family problems and providing advice, guidance and awareness in legal aspects needed by IDPs and displaced persons. A hub for this purpose was established in Hamdaniya district center (Baghdida).
According to the documentary work accompanying this center, it was reviewed by more than sixty IDPs and the center organized more than one meeting and dialogue sessions for this purpose.
It is to be mentioned that the Center for Legal Aid, which was set up in (Baghdida), as part of the program adopted by the Hammurabi organization in the implementation of the Respond project, which is managed by Mr. William Warda, public relations officer in the organization. Activities carried out by the Center according to the topics covered by the assistance are:
A- Cases relating for personal status, heirs, forensic divisions and certain matters relating to criminal offenses.
B- Human rights violations, including discrimination, restrictions on freedoms, issues of transitional justice, domestic violence SGBV, enforced disappearances, property and land abuse, compensation, labor or other matters.
C-Issuing various documents related to known national documents such as Civil Status Identification, Iraqi Nationality Certificate, Passport, Marriage, Divorce, Death and Birth Certificates, and other documents related to land and property.
D- The center refers some complex legal cases as well as psychosocial cases to another center supervised by Hammurabi Human Rights Organization within the Iraqi Minority Alliance program called "Safe Return Center" which includes mental health specialists and social and legal researchers.
Hammurabi Human Rights Organization has become a partner of research Consortium called (Respond), which includes 14 research institutions, including universities, research centers and civil society organizations active to study the multi-level mass migration and its impact on Europe and others within the (Horizon) program 2020.