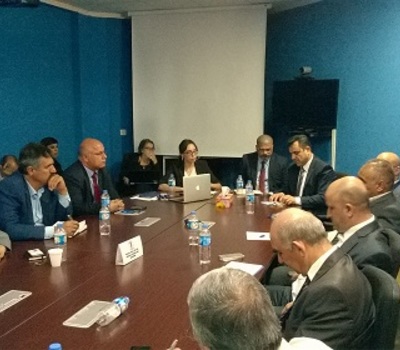 William Warda, head of the alliance of Iraqi Minorities: The situation of minorities is now a reflection of local and regional conflicts
UN relief program looks at ways to face challenges facing minorities
Louis Marcos Ayoub, Vice President of Hammurabi Human Rights Organization: What is going on against minorities is an attempt to exclude them from the future.
Mr. William Warda, head of the alliance of Iraqi Minorities Network, said that the situation of minorities in the human rights' violations is a reflection of the local and regional conflicts as well, given the fact that, these challenges are the result of the stances of the large political components with wide political, security and economic influence.
While participating in the meeting held by the United Nations Development program at the of the International Organization in Erbil on (8/7/2017), Mr. Warda also added in an intervention that the minorities have been and still are subjected to many violations that try to undermine their identities, their rights, and their cultural heritage, and the only hope to save them from this bitter reality lies in the realization of the principles of justice and equality, as these principles are the correct starting point for peace- building. This approach requires concerted action and cooperation between governments and civil society.
Referring that, Hammurabi Human Rights Organization was represented during the meeting by Mr. Louis Marcos Ayoub, Vice President of the Organization. The meeting was moderated by the "UNDP", United Nations development program's Executive Director Mounir Thabit, and Mr. Haider Al-Ibrahimi from the Sanad Organization for Peace building, and the meeting was also attended by Eng. Nouralddine Qablan, Vice-President of Nineveh Provincial Council, Mr .Daoud Jendi, member of Nineveh Provincial Council, and Mr. Louis Marcos Ayoub, who called for the establishment of clear and realistic mechanisms to support and advocate the rights of minorities away from marginalization or exclusion, and claimed the UN mission, " UNAMI" to develop strategies that take into account that the challenges faced by minorities were serious and targeting their identities, human rights, and even were to exclude them from the future.