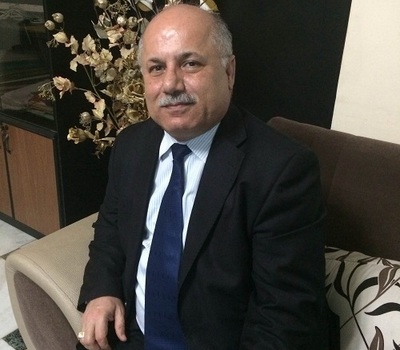 Warda and Abouaoun discuss the possibility of establishing joint human rights activities and work to build civil peace and reduce tensions
Mr. William Warda Public Relations Officer at Hammurabi Human Rights Organization met Mr. Elie Abouaoun Director of the Middle East and North Africa Programs at the United States Institute of Peace.
The meeting was held in Baghdad on Wednesday 5/12/2018 during which number of topics of common interest were discussed including the possibility of establishing joint human rights activities between the Alliance of Iraqi Minorities Network, where Hammurabi Human Rights Organization is one of the founding and active organizations and the United States Institute of Peace to cover issues that still need support, especially issues relating to the rights of Iraqi minorities in areas liberated from the terrorist groups of ISIS.
Mr. Warda and Mr. Abouaoun discussed the issue of civil peace, how to find political, security and economic bases for and the importance of preserving the basic identities of the components of Iraqi people thus enhancing the value of community diversity not compromising any fundamental rights that reflect these religious and national identities and the possibility of building relations between all components of Iraq in the absence of marginalization, containment, isolation and exclusion.
The two sides also discussed the directions required to end tensions between all components within the framework of political, democratic and civil approach that respects all options away from those anomalies that have hindered many efforts to build a democratic, national Iraq that meets the rights of all Iraqi components.