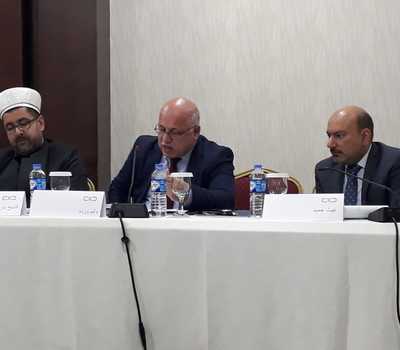 Advisory sessions were held in Erbil in the presence of religious and academic elites and leaders of civil society organizations
Mr. William Warda speaks in his intervention on the concept of common citizenship
Mr. Warda: Citizenship requires to respect our international responsibilities and obligations and live in harmony with the spirit of the times
Mr. William Warda, public relations officer at Hammurabi Human Rights Organization, responds to the call of King Abdullah bin Abdulaziz International Centre for Interreligious and Intercultural Dialogue (KAICIID) on December 17th and 18th, 2018 and participated in the consultative sessions on joint citizenship and Intercultural Dialogue peaceful coexistence held in Erbil.
In order to exchange views and experiences in the fields of citizenship and activate cooperation and joint action to promote social cohesion and coexistence based on understanding and dialogue and support the role of religious leaders and dialogue activists in promoting peaceful coexistence side by side with the development of an actionable plan of action to promote social cohesion and common citizenship to establish a group to consolidate common citizenship.
Mr. Warda made an important intervention on the subject included presentation on the subject, which included:
The citizenship I understand is not about the value of equality and non-discrimination before the law or freedom of belief or participation in public affairs or national decision-making or the payment of taxes, but citizenship in its broad sense is a responsibility and a right.
He added in his speech:
Citizenship, which we seek, does not mean to abolish your identity, privacy, ideas, beliefs or give up or smelting, but citizenship is to interact with others and share love on the basis of civilized dialogue and to recognize diversity as a factor of wealth and not a factor of weakness if its investment is understood within the concept of respect for diversity within the framework of unity.
He concluded by saying:
It is our responsibility to seek justice, to act accordingly and to be our first concern in our daily work. The flag of our state should be above our partisan, sectarian and regional media, and the Constitution and the law should be above all, and respect our international responsibilities and obligations. And live with the spirit of the times in building the human and the state according to a civil, civilized and humane approach ... to put human being ... any human being ... in its proper place ... as a supreme value ... and that our work and our quest and movement for it .
Thus, we have laid a solid foundation for citizenship, unity and social cohesion, and even the foundation of a secure and stable homeland.
It is to be mentioned that number of religious and academic elites and leading civil society organizations participated in the consultative sessions.