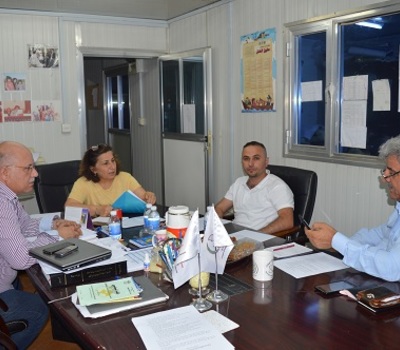 Hammurabi Organization is taking a decision to support the relief of residents of Basra province with drinking water
The Board of Directors approves to publish a semi-annual research magazine on the human rights and fields of volunteer work, in order to promote the culture of support to confront the phenomena of injustice, marginalization and extremism
Participants in the meeting: reviewed the achievements of the decisions of the second meeting of the Council and the projects implemented or under implementation
The Council discusses the project of training the educational staff in Mosul
Reviewing the work of the committees, membership of the organization, evaluating the members' efforts and the general administrative reality
Mrs. Pascale Warda, Chairwoman of Hammurabi Human Rights Organization, presides over the third meeting of the Board of Directors of the Organization on August 30, 2018 in Baghdad taking more than five hours,
The meeting was attended by Mr.Louis Marqus Ayoub, Vice President of the Organization, and Mr. William Warda, Public Relations Officer, Akad Yohanna member of the board, while Mrs Ikhlas Kamel Behnam and Mrs. Nadia Butti were unable to attend and that the Board took note of the surgery of Dr. Mohammad Kathem Al-Maeeni, member of the Board of Directors wishing him a speedy recovery.
On the agenda of the meeting, the previous meeting was reviewed and signed, and a preview of what has been achieved by the Council during that meeting. Number of important activities and participations of the members of the Board of Directors were also reviewed, the activities of the members of the General Board and the committees, (Glasgow meeting in May 2018 , The Ministerial Conference To Advance Religious Freedom in Washington, DC in July 2018 and future events for which Hammurabi was invited to participate in UK Universities, this invitation is to the Chairwoman of the Organization in October 2018, Tunisia's invitation to the Public Relations Officer in September 2018.
The participants stopped with objective treatment to evaluate the projects of the organization taking into consideration a detailed note of the projects implemented (the project of distributing water filters, the first phase, the training project of the educational cadres with Freedom House Organization FH, the teacher training in Mosul, the projects with (AIM).
As well as projects under implementation (Respond project with Uppsala, the project of distributing water filters Phase II, Yazidi children rehabilitation project).
The council discussed number of proposals for future project , the financial reality (remittances, rents, final budgets of projects, financial reports), rehabilitation of Nineveh office and the official opening, and the internal situation of the organization (work of committees, membership, evaluation of the work of the members, evaluation of the staff, their work and administrative reality), and other miscellaneous matters.
The council adopted number of resolutions and recommendations to activate the general work of the organization. Among the most important decisions taken by the council is to contribute in the relief of residents of Basra province with drinking water, forming a committee of experts for evaluation and scientific assessment of studies and research and approving to publish a semi-annual research journal on rights.