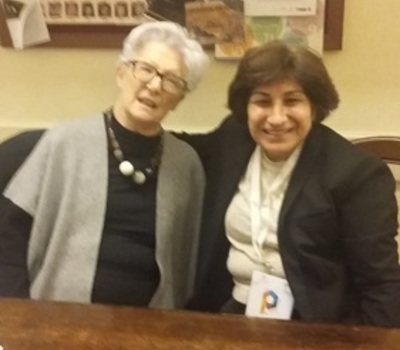 The meeting was held in coordination with Mr. Emiliano head of the Italian Religions and Security Organization, discussing the issue of strengthening partnership and developing mechanisms of cooperation between them.
Mrs. Pascale Warda, Chairwoman of Hammurabi Human Rights Organization, held intensive meetings with number of personalities participated in the International Conference on Sustainable Human Development held at the Vatican on 7/3/2019 in the presence of more than one thousand and two hundred activists in the fields of human rights and economic affairs.
On the sidelines of the conference, Mrs. Warda met Member of the Italian Senate Paula Binetti in her special office in the Council on the subject of joint cooperation in support of members of the new Iraqi parliament to assist them in training in legislation and to see the relationship of laws to the rights and freedom of citizens.
The meeting was held in coordination with Mr. Emiliano, head of the Italian Organization for Religions and Security, a partner of Hammurabi Organization since the beginning of this year. The meeting represents a step towards enhancing cooperation between the two organizations. The first of its kind in order to establish a permanent partnership between them on the road to uniting efforts to serve common issues.