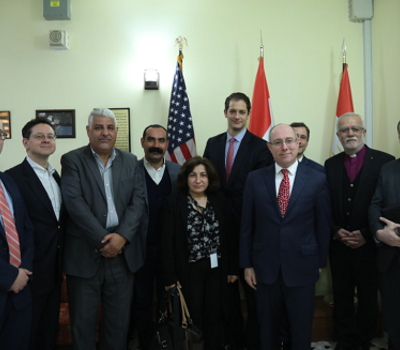 The meeting was part of a delegation of civil society organizations to discuss issues related to the rights of citizens returning to the Plain of Nineveh and Sinjar
Mrs. Warda speaks at the meeting and calls for the support of the security system represented by the Ministry of the Interior and the inclusion of the sons of these areas to protect and promote stability
Mrs. Pascale Warda, Chairwoman of Hammurabi Human Rights Organization, Former Minister of Migration and Displaced, member of the Iraqi Women's Network, met Mr. Andrio L. Bek, Deputy Assistant Secretary of State for Bureau of Near Eastern Affairs, and the accompanying delegation as well Mr. Max Primack, Vice President of the US Agency for International Development Support Foundation.
The meeting was held at the US Consulate in Erbil on Saturday 17/11/2018 ,came at a special invitation and by participation of representatives of number of civil society organizations concerned with minorities.
The situation of minorities in Nineveh plain and Sinjar was discussed in the return of its population to those areas and the requirements to address security and service problems in order to promote stability and means that can be adopted to support civil society organizations in order to communicate to help returnees.
During the meeting, there were extensive discussions on several issues, foremost the security issue and the signs of stability. Mrs. Pascale Warda spoke about this issue, pointing out the need to adopt a security strategy based on the inclusion of minorities in this responsibility away from any marginalization or isolation, provided that the Iraqi Ministry of the Interior seriously support this, by involving the sons of minorities in the responsibility of real involvement.
In her speech , Mrs. Warda added that what the armed groups have done in the liberation of these areas cannot be withdrawn on the current situation, which requires the presence of a stable security government, and not in the context of armed groups strengthened by people and political groups and under conditions that take into account the security demands of the population of these components but unification of security forces in the Ministry of the Interior more serious and inclusive of the sons of minorities as a right of their civil rights to protect their areas.
Among the other issues discussed during the meeting was how civil society organizations can be supported for effective field participation in promoting stability and spreading the values of cooperation, solidarity and fraternity among all components, paying attention to the priorities based on sustainable human development, because such an approach would represent a vital and active basis for achieving the desired social integration and laying the foundations of life on the basis of understanding and communication required by a fair social peace.