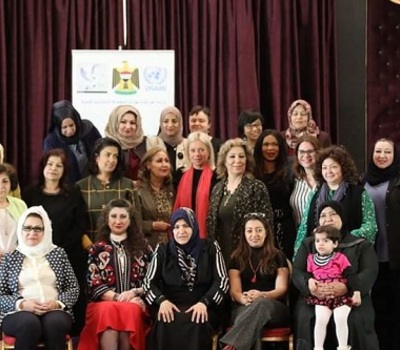 Participants in the workshop receive training courses on the mechanisms of implementing UN Security Council Resolution 1325
Emphasize the involvement of women in political and economic activities and institutions and all other activities and consider it a prerequisite for the launch of these activities
Mrs. Pascale Warda, Chairwoman of Hammurabi Human Rights Organization, participated in the training workshop held by the United Nations Mission to Iraq (UNAMI) during the days 23,24,25 March 2019 for the consultative women's group that was developed by the United Nations to develop strategic plans and working mechanisms that enable the group to supporting the rights of women and developing their capacities at all levels in order to enable them to participate effectively in the country's public policy making, to promote democratic content and broad participation and build a field work tradition worthy of its civilized required role. The workshop also included training on the mechanisms necessary for the implementation of UN Security Council Resolution 1325, as well as combating the family violence by focusing on protection and proportionate to the number of women in Iraq.
It is to be mentioned that UNAMI had developed this consultative group after considering the importance of creating a system of this kind to include persons active in the field of human rights to a degree of experience and continuous activity to benefit from their experience in addressing all violations against Iraqi women, with a commitment to make women and civil society a key criterion for selection and gender mainstreaming in legislative and executive bodies and rely on the role of women in building and integrating social peace and to involve them in the establishment of political and economic working groups, diplomatic teams, human rights delegations and all delegations that serve as envoys, and that the participation should be a precondition for any activity of this kind and the establishment of contact groups with the government and the House of Representatives on this matter or that. The Consultative Group also received training in the role of women in logistical support for all activities to be implemented, Positive influencers in all activities, as well as their equal participation in conflict resolution and gender mainstreaming in peace processes.
The workshop included four axes: determining the priority goals, defining the steps that will be taken to achieve the goals, adopting a period of time to achieve the goals, and defining the tasks, the individual duties of each member of the group to achieve the goals.
Mrs. Jeanine Hennis head of the United Nations Assistance Mission for Iraq UNAMI, participated in a lecture on the importance of the work of the Women's Consultative Group to implement standards that guarantee women's rights, protect the dignity of Iraqi women and find more opportunities to implement UN Security Council Resolution 1325.