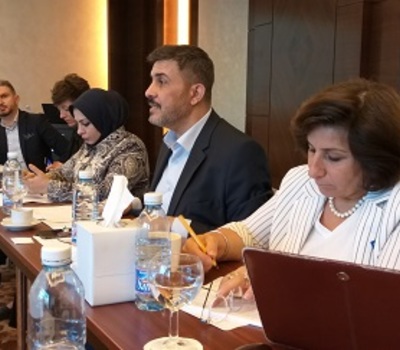 Mrs. Pascale Warda, Chairwoman of Hammurabi Human Rights Organization, participated in the consultation meeting entitled "To develop means to promote the rights of victims, revive memory and strengthen reconciliation in Iraq".
The consultation meeting was held by Inpunity Watch Organization in cooperation with the Iraqi Al-Amal Association, where government and non-governmental personalities were invited.
The meeting, which took place at Sheraton Le Verdun Hotel in Beirut, from July 26 to 27 was aimed at making important recommendations on the right to justice through the participation of victims.
On the second day, the participants deepened on the subject of preserving memory after the occurrence of the crimes, as the crimes of ISIS in the cities and many areas of Iraq .
The importance of the subject of preserving the memory has been identified for many motives, including the prevention of crimes where post-crime generations remember and make the importance of the victims a way of avoiding the recurrence of genocide, war crimes and crimes against humanity.
Chairwoman of Hammurabi Organization said that the mentality of nonviolence can not be created without consideration of what has been practiced against the innocent people and stand by it contributes to the renunciation of the use of violent means to solve problems. It also contributes to the change of thought and outlook on the other, that is, every human being deserves to know, remember and live in more humane and respectful ways for the other, whatever the differences and specifics.
The interventions of the Director General of the Non-Governmental Organizations Department, Mr. Mohammad Taher Al-Temimi, was very valuable. He stressed on the mutual cooperation between the governmental and non-governmental sectors in order to place practical mechanisms to preserve memory of all the victims and the country as a whole. Mr. Taher praised Hammurabi's work in this regard through the annual reports and other activities saying: "This work testifies to the credibility of the expert people working with Hammurabi Organization in making documentation one of the first means of memorizing memory.
He also praised Hammurabi's proposal to establish a museum in which all means used and the work of non-governmental organizations will be developed in coordination and support from the NGO Department of the Secretariat General of the Council of Ministers, as will provide opportunities for officials, as well as citizens, especially researchers, to keep an eye on the live of Iraqis, because we believe that this serious work will end the culture of surveying the memory followed by previous generations, such as the ISIS or before where they practiced all kinds of demolition and destruction against historical monuments such as churches, museums and other places of worship for all religions in Iraq in addition to the destruction of archaeological sites that represent richness for Iraq in private and the world in general.