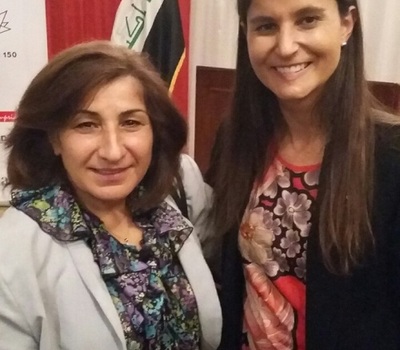 Pascale Warda accepts the invitation of the Canadian Embassy to attend the reception ceremony hosted by the Embassy on the occasion of the Canadian National Day.
Warda holds meetings with the participants at the ceremony and conveys field images of what has Hammurabi Human Rights Organization done.
Ms. Pascale Warda, Head of Hammurabi Human Rights Organization, has accepted an invitation by the Canadian Embassy in Baghdad to attend the ceremony held on Sunday (9/7/2017) on the occasion of the country's National Canadian Day for the 150th anniversary for founding modern Canada, and conveyed the congratulations of Hammurabi Human Rights Organizations on this occasion, She held bilateral meetings on the occasion of the ceremony with the staff of the Canadian Embassy and with a number of diplomats and human rights activists whom the embassy invited to attend the ceremony.
Ms. Warda conveyed to the participants in the ceremony whom she met, what Hammurabi Human Rights Organization is accomplishing in the relief and rights fields, and activities carried out in the displaced camps in Erbil, and Duhuk, as well as in the liberated areas of the Nineveh Plain, and in the city of Mosul on both left and right sides, and the carried out field inspections while filing what minorities are exposed to from serious risks.
Ms. Warda confirmed that there are no alternatives to the return of displaced persons to their homes. However, the objective conditions for this return must be met, namely, security, away from political disputes, provision of services, the adoption of a policy of compensation for redress of victims, and the achievement of transitional justice by prosecuting all those who caused the genocide that affected the minorities, especially Ezidies and Christians. .