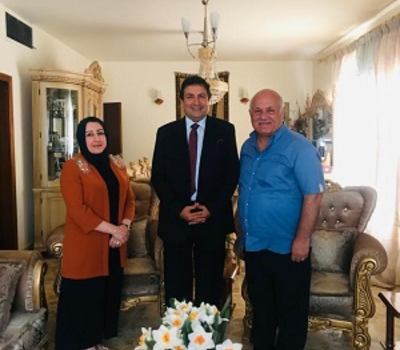 The Director of Public Relations receives a delegation from the High Commission for Human Rights
Warda presented a brief overview of the projects carried out by Hammurabi Organization and its future vision for the situation
On Thursday, 11 August 2022, Mr. William Warda, Director of Public Relations of Hammurabi Human Rights Organization received in the main office in Baghdad, a delegation from the Department of Minorities and Diversity Protection of the High Commission for Human Rights, attended by Mr. Obaid Abdallah, responsible of the file of minorities and protection of diversity in The High Commission for Human Rights and Mrs. Rana Moqbel, a member of the Minorities Office in the Commission. The two-hour meeting addressed the situation of Iraqi minorities and the projects implemented by Hammurabi to promote a culture of human rights and respect for minorities.
Mr. Warda officer of Relations and media of Hammurabi Organization gave an overview of his tour to Europe briefing the proceedings of the Conference on Coexistence and Peace under the Iraqi Constitution, convened by Iraqi rights organizations at the United Nations Headquarters in Geneva held in mid-July and attended by many human rights activists forwarding important interventions on the future of peaceful coexistence in Iraq and challenges faced by minorities.
Also participated representatives of the Federal Government and officials of the Kurdistan Regional Government of Iraq. During the meeting an exchange of views took place regarding the ways to promote human rights in Iraq. Mr. Warda presented to the delegation the annual report of Hammurabi Human Rights Organization for the year 2021 including many topics related to minorities, religious freedoms, pluralism, the situation of women, corruption and other important subjects of interest to both parties.
The two parties also exchanged views on current issues and the importance of cooperation in improving the situation of minorities and human rights in Iraq.