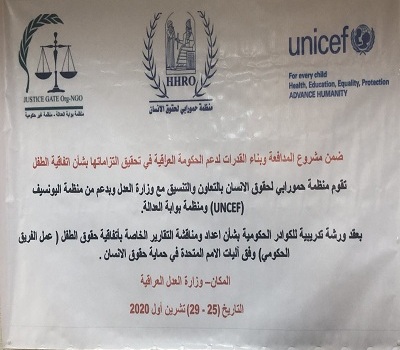 The first training workshop on the Advocacy and Capacity- Building Project began to support the Iraqi government to fulfill its obligations on the right of the child.
The workshop held with the support of UNICEF
Project Manager Mr. William Warda said: Hoping that the workshop will contribute to meet the human rights knowledge to adopt successful governmental implementation policies.
The first workshop on advocacy and capacity-building project began on Sunday morning 25/10/2020 in Baghdad to support the Iraqi Government to fulfill obligations on the rights of the child. It is a special training program for preparing reports on the Convention Rights of the child within the mechanism of the United Nations to protect the human rights with the support of UNICEF, in collaboration with Bawabet Al-Adala Organization.
The workshop was held at the Ministry of Justice for five days and the first day program included an introductory briefing for the participants in the workshop and a welcoming speech by the project manager Mr. William Warda, Public Relations Officer of Hammurabi Human Rights Organization, and Mrs. Pascale Warda, Chairwoman of Hammurabi Organization, presenting a lecture on human rights and the characteristics and after a break, Mr. Warda presented a brief explanation on international human rights conventions , bodies and the mechanism used to follow the progress of states in the field of human rights.
The first day program included a lecture by, Dr. Mohammed Turki Al-Obaidi Director of Human Rights Department at the Ministry of Justice, clarifying the work required by governmental bodies to follow up human rights, and it is hoped to issue an implementing expanded report with the proceedings of the workshop and training for writing reports, to promote a culture of concern for childhood rights.
Mr. Warda, the project manager, said that there is a clear need for knowledge in this basic human rights aspect, and we hope that this workshop and subsequent workshops will contribute to the formation of a database for the government team that is responsible for implementing the international agreements that Iraq has ratified.
In his welcoming speech Mr. Warda added that the Ministry of Justice is aware of the importance of this field and work to raise the capabilities of its government cadre with other government institutions and its rapid response and cooperation with UNICEF and the organizations working to provide technical support deserves praise and appreciation.