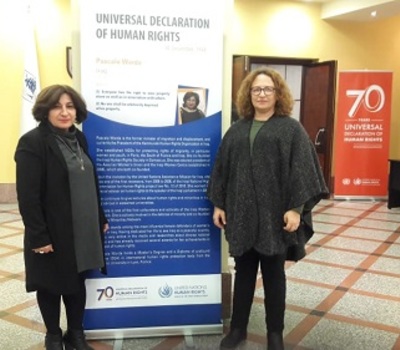 The Lebanese capital Beirut celebrate the honoring ceremony amid a heavy Lebanese and Arab presence
The honoring ceremony came on the occasion of the 70th anniversary of the Universal Declaration of Human Rights
Recognized by Mrs. Pascale Warda as an experienced activist to defend the rights of the oppressed, the persecuted, the marginalized and fairness of rights holders
The Human Rights Council of the United Nations / Middle East and North Africa Office honored Mrs. Pascale Warda, Chairwoman of Hammurabi Human Rights Organization. The award came within honoring 30 female and male figures from Middle East and North Africa appreciating the efforts of these personalities in the field of human rights.
The ceremony was held in Beirut Arab University in the Lebanese capital on 12/12/2018 on the occasion of the 70th anniversary of the Universal Declaration of Human Rights. The celebration was attended by number of Lebanese and Arab personalities, including politicians, human rights activists and academics, where the celebration hall was crowded.
It is to be mentioned that Mrs. Pascale Warda is known for the Iraqi and global levels as one of the most active women in this field and has made great efforts in supporting the oppressed, persecuted and the victims of terrorism and armed violence and has been exposed to serious security risks as a result of working among these groups recording their suffering and defending them.
Mrs. Warda had several field tours in hot Iraqi regions to reach the most remote area following up the issues of displaced persons and refugees, and has fought many confrontations, also followed the issues of survivors of terrorism both female and male and had remarkable positions in the Iraqi or international arenas in order to display the tragedy of the persecuted whose rights have been violated.
It is hoped that the organization will present all the details of this honor very soon.