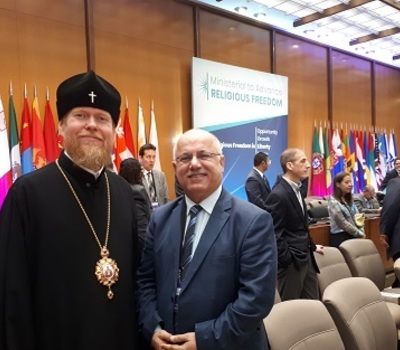 William Warda met number of Iraqi religious leaders, personalities and leaders of researchers, writers and activists from civil society organizations in Washington
During his visit to Washington to participate in the First Ministerial Conference to Advance Religious Freedom sponsored by the US government and at the invitation of the US State Department Mr. William Warda, Director of Public Relations of Hammurabi Human Rights Organization (HHRO) and former Head of the Alliance Of Iraqi Minority (AIM), met number of Iraqi religious leaders and civic figures participated in the Ministerial Conference, to promote religious freedom in the world.
During the last week of last July, Mr. Warda met number of Bishops of the Assyrian Church of the East, His Grace Archbishop Mar Awa Royel, presiding over the Diocese of California, Chairman of the Commission for Inter-Church Relations and Education Development (CIRED) and Mar Paules, Archbishop of Illinois, Chicago, Mar Bawai Soro Bishop of the Chaldean Eparchy in Canada.
Mr. Warda met Mar Daoud Sharaf, Syriac Orthodox Archbishop of Mosul & Environs, his intervention was on the situation of Christians in Iraq. He also met the Archbishop of Ukraine church, who expressed his interest in the situation of Christians in Iraq.
Mr. Warda met number of priests and clergymen from various churches, Egyptian, Lebanese and Jordanian, participated in this conference.
These meetings focused on strengthening relations and developing the process of networking between institutions active in promoting religious freedom in the region.
Mr. Warda also met number of international and local civil society organizations, including the United States Agency for International Development (USAID), Bureau of Democracy, Human Rights, and Labor (DRL), the United States Institute of Peace (USIP), Freedom House (FH), Religious Freedom Institute ( RFI), The U.S. Commission on International Religious (USCIRF), the Islamic Center of American Indians, the American Indian Federation of Christian Organizations, Save the Persecuted Christians (STPC), Jordanian Interfaith Coexistence Research Center (JICRC) and other specialized international agencies.
He also met Iraqi civil society organizations including the Assyrian Charity Committee headed in Iraq by Mr. Ashur Sarkoun, the Iraqi Shi'a Rights Organization headed by Mr. Mustafa Al Khawand, the Foundation for Freedom of Yezidis, the Barzani Charitable Foundation represented by Delovan Barwari, Yazda organization headed by Mr. Haider Elias and other Iraqi organizations.
Mr. Warda met researchers, writers, media professionals and activists in the United States of America. He also met Yazidi activists Nadia Murad, who presented an important intervention on the situation of Yazidis in Iraq, which aroused the interest of the participants in the conference.
The meetings dealt with strengthening cooperation in humanitarian fields and working to develop coordination on issues that serve Peacebuilding and stability in Iraq.