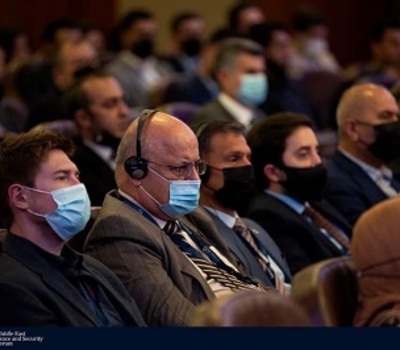 At a conference of the American University of Kurdistan Region
William Warda reviews analytically six contents related to the ongoing post-terrorism treatments that affected Iraq in the context of humanitarian challenges and overall governance in the context of climate risks in Iraq and the Middle East, focusing on local security dynamics and overall governance in Nineveh.
Noting to the points of success and failure in securing the safe return of the displaced people.
Develop mechanisms to achieve transitional justice and ensure conditions for civil peace in the areas of return.
Warda addresses the political and constitutional guarantees to improve public confidence of the government
Mr. William Warda, Public Relations Officer at Hammurabi Human Rights Organization presented a realistic description of six human rights implications related to post-terrorism treatments that affected Iraq.
The proposals of Mr. Warda came during his participation in a conference of the American University of Kurdistan held in Dohuk on November 15, 2021, and due to the importance of what was stated in his proposals, we publish the full text:-
Q/ What are the best three major successes and three failures in the efforts of the government and the international community to ensure a dignified and safe return for the displaced people?
-The government and the international community succeeded in defeating ISIS militarily, restoring land, property, and all that ISIS occupied for indigenous people.
- Securing areas occupied by ISIS from explosives and mines providing a safe environment for encouraging return.
- Reopen educational, health and service institutions to work as soon as possible and returning people to their jobs and services.
As for failure?
- Delay and lag in compensating the affected people and developing effective reintegration programs.
-lag to create and build genuine reconciliation, building confidence and promoting social cohesion among the Iraqi components. It is true that the government and the international community acknowledge the occurrence of genocide for some components, crimes and acts of violence that amount to war crimes and crimes against humanity, but the level of response to treatment is weak.
- Lag and delay in the reconstruction of infrastructure in Nineveh, as many roads, sewage network, hospitals, schools and important buildings are still not rehabilitated.
Thanks to the national and international civil society organizations, churches and Islamic religious institutions that played a major role in the reconstruction and rehabilitation of many institutions as well as building and reforming, besides international humanitarian institutions and international relief organizations that worked on integration and rehabilitation programs, peace building and strengthening community cohesion. Such as USAID, GIZ, USIP, HHRO, AIM, Hard Land, and many European and American international organizations. teams of local volunteers and others.
Q/ Are the requirements of returnees safety and security being met?
Actions and efforts being made in this direction, but efforts remain scattered, if they do not stem from realization by all that security cannot be achieved effectively unless it is collective security. Meaning that everyone at the three different levels (micro, mezzo and macro) must be convinced of the necessity of achieving security and civil peace in this region.
Q/ What is your vision for achieving transitional justice for crimes against minorities, taking into account the fragile community peace?
Transitional justice stems from the fair and equitable imposition of the law, starting with recognition of errors, the apology and the compensating the affected, not only material but also moral compensation. In other words, there are citizens who have been affected not only by their property and money, but that hundreds of young men and women have lost their studies and education. We should think about them and how we can address their situation and people who have been subjected to trauma, intimidation (fear), Psychiatric illness, and disabilities, should be treated and rehabilitated. There are social problems that occurred in the displacement camps and other innumerable consequences.
It is needed a great awareness and attention from decision-makers in the state, with its various institutions , including the nature of dealing with survivors of ISIS terrorism, the method of dealing with them, and the repercussions that resulted from acts of rape, captivity and other heinous acts.
Therefore, serious work is needed on the psychological rehabilitation of those affected by ISIS, reintegration and facilitating their lives. Here comes the necessity for the dignitaries, including political and social figures, sheikhs, clergymen, etc., to play an important role in building trust and reconciliation and convincing people that terrorist thought has no roots in the region, despite the atrocities occurred.
Q/ What are the outstanding issues that still fuel tension between the various components of Nineveh?
What increase the tension is the extremism that exists in the region. It is religious, national and political extremism, no real programs to remove all these types of extremism. In short, we mean, there are laws, legislation and policies include, but are not limited to the issue of land and property. They were developed on religious and nationalist extremist bases, and were never motivated by national motives, with the aim of demographic change in areas of specific components and are still in force today. Even the process of drawing administrative borders was drawn with extremist national or religious motives in order to expand one side at the expense of the other depending on the logic of force,
In order to remove the elements of tension between the components of Nineveh, there must be a serious look and real work to reconsider the laws that were built on national and religious foundations and tendencies, as well as to redraw and develop the administrative units in a calm atmosphere far from religious, sectarian or national extremism in a manner that entitles stability and justice for all at the service of everyone. For a deeper treatment, a specialized research center for the region should be established, consisting of academics and independent specialists, to study and research in a realistic and impartial manner about the phenomenon of extremism and terrorism in the region and to determine its causes, motives and factors that led to its exacerbation and what are the ways not to repeat it.
Q/ Do the residents accept and support the return of the displaced from other ethnic or religious groups? How and Why?
Yes, there is good acceptance of the return of displaced persons from other ethnic or religious groups, as evidenced by the return of Christian families to Mosul without any obstacles. But the problem is the extent to which the returnees have confidence in the sustainable security and guarantees exist.
There are also Arab Muslims who have returned to Christian areas where they previously lived, for example, the towns of Qaraqosh, Bartella and others. The towns of Bashiqa and Bahzani are the best example of coexistence between Christians and Yezidis.
As for the question of why? We have said before terrorism among the Iraqi components was not rooted or deep, and that everyone eventually realized that they all came out with a loss for everything that happened, and there is no winner in the process and the game was over.
Q/ What kind of political and constitutional guarantees are needed to improve the level of public confidence in the government?
I think that the most important political and constitutional guarantees is to preserve constitutional articles, laws, or bodies that feed extremism, which were developed, formulated or established to revenge, exclusion or marginalization, as well as focusing on the application of laws and legislation that serve the stability of Iraq and the democratic approach, strengthening pluralism and social cohesion and protecting diversity etc.
for example is the abolition of the accountability and Justice Act, which must be ended, and I think 18 years later there is no need for it now, followed by the abolition of the Accountability and Justice Commission ... and other laws that affect the rights of non-Muslim minorities, especially Some articles on personal status and laws related to property and others.
As for the Iraqi constitution, we believe that Article 125 relates to rights guarantees for minorities, should be enforced and regulated by law that guarantees the political, administrative, cultural and linguistic rights of minorities. As for political guarantees, real representation of minorities in parliament, local councils and the government should be ensured. Assurances and guarantees from the federal government or as far as the matter is concerned with the Kurdistan Regional Government must be real and effective, and not just empty promises and slogans.