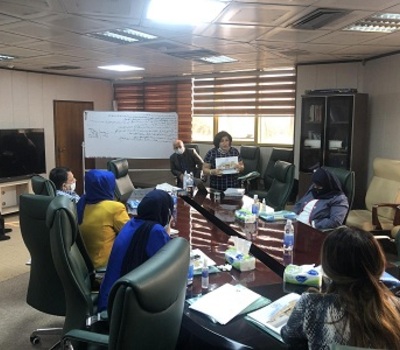 On the second day of the third training workshop, participants enhance their knowledge
Reviewing the rights of the child in the Iraqi nationality law and searching the discriminatory points and the extent to which it meets the problem of ISIS families children
Learning how to obtain United Nations publications on human rights to gain knowledge aiding the staff to support the national plan.
Applying two written exercises , the first to develop a national plan on homeless (displaced) children and the second on the rights of minority children and reviewing the results
The importance of involving civil society organizations in the national plans to protect children - providing samples of the efforts of Hammurabi Human Rights Organization in this field.
On the second day of the third training workshop that started on Sunday 15 November 2020, participants enhanced their information within the advocacy and capacity building project to support the Iraqi government in achieving its obligations regarding the Convention on the Rights of the Child supported by UNICEF and in cooperation with Hammurabi Human Rights Organization and the Bawabet Al-Adala Organization.
The 2nd day work is a continuation of the talks on the guarantees that must be available for writing professional reports in accordance with the national plan that requires the adoption of effective standards on human rights .
Mr. William Warda the project manager presents a summary of the previous day achievements including three lectures and interventions.
Mr. Warda went over the texts in the constitution that protect these rights, namely Articles 29, 30, and 37, then he talked about the Iraqi Nationality Law and the extent to which it meets the rights of children or vice versa, and the necessary amendments be at the required human rights level, including children of terrorist families.
The workshop singled out the existence of negative differentiation in the issue of the children rights whose parents lost the Iraqi Nationality then participants concluded the need to amend the nationality law in a way that guarantees the rights of children regardless of political positions and far from any influences.
Dr. Mohammad Turki Al-Obaidi make a presentation on how to get Information through the website of the Office of the High Commissioner for Human Rights in order to increase the amount of information among government employees.
Then Dr. Al-Obaidi divided the participants into two groups to conduct two written exercises to develop a national plan, the first on the rights of homeless (displaced) children, and the second on the rights of children of minorities.
Results and tasks of concerned ministries to implement the plan was discussed.
Mrs. Pascale Warda presented a summary on the role of civil society organizations and their contribution to the success of any proposed national plan, reviewing the efforts of Hammurabi Human Rights Organization as a sample of cooperation with the Iraqi government in many fields to promote human rights and development programs in this area.