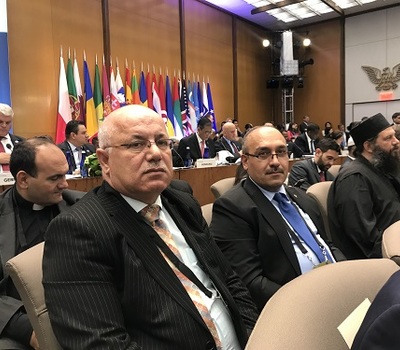 On the sidelines of the Ministerial Conference to Advance Religious Freedom from (24 to 26) July held in Washington
Mr. William Warda, met the Ambassador Wadee Batti, Head of the Iraqi Mission to the Conference , Head of Human Rights Department of the Iraqi Foreign Ministry, and Fareed Yaseen the Iraqi Ambassador to the U.S
Mr. Warda met Mrs. Bayan Sami Abdul Rahman, representative of Kurdistan Regional Government of Iraq to USA
On the sidelines of the Ministerial Conference sponsored by the US government and at the invitation of the US Secretary of State for the defense of Religious Freedom in the world, Mr. William Warda, Director of Public Relations of Hammurabi Human Rights Organization (HHRO) and former Head of the Alliance Of Iraqi Minority (AIM), met HE the Ambassador Wadee Batti, Representative of Iraqi Foreign Ministry to the Conference, and HE the Iraqi Ambassador to the U.S. Fareed Yaseen.
Mr. Warda also met Mrs. Bayan Sami Abdul Rahman, representative of Kurdistan Regional Government of Iraq in Washington.
The meetings dealt with the exchange of views held by Iraqi civil society organizations on the situation of religious minorities and the means to develop and promote religious freedoms in Iraq to protect Iraqi community diversity and promote the existence of religious minorities such as Yezidis , Christians, Baptist Mandaeans, Baha'is and others.
Mr. Warda participated in the reception ceremony at the invitation of the Secretary of State Mr. Mike Pompeo at the US State Department.
He also participated in the reception ceremony called by the United States Holocaust Memorial Museum including speeches and stories of incidents of religious persecution of the Holocaust survivors.
In her speech, the United States Ambassador to the United Nations presented a summary of the objectives of the Ministerial Conference to Advance Religious Freedom.