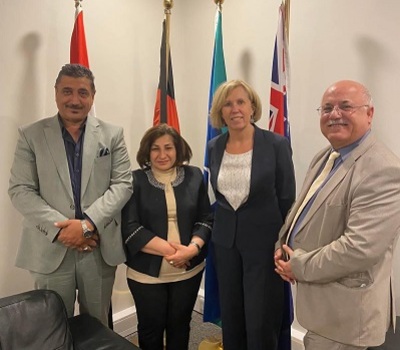 The Australian Ambassador to Baghdad receives a delegation from Hammurabi Human Rights Organization
Her Excellency is looking forward to a human rights and relief program to serve Iraqi citizens in cooperation with Hammurabi.
On Tuesday, March 29, 2022 the Ambassador of Australia to Baghdad received a delegation headed by Mrs. Pascale Warda, Chairwoman of Hammurabi Human Rights Organization , Mr. William Warda and Dr. Mohamed Kathem Al-Maeni, members of the Board of Directors of the organization.
During the meeting, number of issues to enhance human rights values were discussed.
Hammurabi's delegation also gave a presentation on the activities of human rights and relief that the organization undertakes for Iraqi citizens and efforts to confront the tendencies of extremism, terrorism, policies of containment, absence and violence and to focus on the importance of protecting marginalized groups within a wide number of programs adopted by the Universal Declaration of Human Rights and other international instruments.
On the Australian side, the coordinator of humanitarian affairs and the director of the human rights file at the embassy participated in the meeting.
The delegation also referred to number of achievement of Hammurabi Organization in the care of the displaced persons subjected to serious violations of terrorist groups and the periodic and annual reports on the situation of human rights looking forward to the adoption of various programs for returnees in Nineveh and other governorates after liberation from ISIS.
For her part, the Australian Ambassador appreciated the extensive efforts of Hammurabi Organization stressing the awareness of the organization achievements and that these achievements motivated her that her government to adopt projects of rights and relief for future implementation by Hammurabi Human Rights Organization.