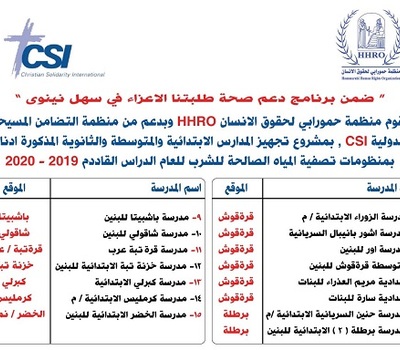 Hammurabi Human Rights Organization is undertaking a project to equip (15) schools with drinking water purification and desalination systems
The project is part of the joint programs implemented by Hammurabi organization and its partner Christian Solidarity International CSI for returning minorities to their original areas.
At the beginning of August 2019, Hammurabi Human Rights Organization, in coordination with the Directorate of Education of Hamdanyia, and the administrative Department represented by the mayor of Al-Hamdaniya, implemented the working steps for the project of water purification and desalination systems for (15) elementary, intermediate and secondary schools with production capacity of (400) liters per hour, and a water tank (stainless steel) with capacity of (1000) liters. In addition to equipping and installation, the project also includes training the educational staff in the operation and system maintenance.
The project is part of projects implemented by Hammurabi Human Rights Organization with the support and partnership of Christian Solidarity International (CSI) in the affected areas as a result of ISIS crimes to serve the returnees to their places of origin. More than (9500) students both male and female in (15) schools, withen the geographical area of Hamdaniya including districts of Christians, Shabak, Arab. Turkmen and Kakaies, which means that the beneficiaries of the project are people of Nineveh Plain and all the components mentioned and who have returned during the last two years of forced displacement.
The project is being carried out under the supervision of engineers from Hammurabi Human Rights Organization and technicians from Ard Al-Khawali Company, headquartered in Baghdad. The schools included in the project, as selected by the Directorate of Education of Hamdaniya, are:
Hamdaniya District Center: Al-Zawraa School 442 students, Ur School 580 students, Karagosh Intermediate School 483 students, Virgin Mary secondary School 544 students, Sarah secondary School 454 students, Ashor Banipal Syriac School 430. Karamlis School in Karamlis Town 237 students.
Bertella District center: Hanein School of 400 students, Bartella primary school 662 students, Khazna Teba school in Khazna Teba village 1100 students, Bashbita school in Bashbita village 740 students, Shaquli school in Shakuli village 920 students, Kara Teba school in Kara Teba village 370 student, Al-hader school in Hader village 680 student ,Al-Khaperli School in Al-Khaperli Village 975 students.
It is to be noticed that Hammurabi organization is seeking all its resources to coordinate with the Directorate of Education of Hamdaniya and with donors to equip other schools that have not been included in this project.