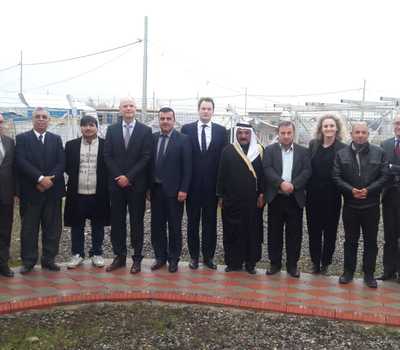 The meeting took place in Baharka IDP camp in Erbil in the framework of deliberation on Iraqi minorities
Mr. William Ward: The main problem now for minorities is that their areas fall within the so-called disputed areas
Mr. Warda: What alleviates the problems for minorities lies in the movement of international organizations to help these components to fill the vacuum of service and municipal
Mr. William Warda, Public Relations Officer at Hammurabi Human Rights Organization met the Dutch Foreign Minister Stef Blok in the presence of Geoffrey van Leeuwen Middle East Foreign Affairs Officer and Dutch Ambassador to Baghdad, Mr. Matthijs Wolters.
Mr. Warda's meeting was part of a delegation representing The Alliance Of Iraqi Minorities Network, including Mr. Khader Al-Domeli, Mr. Sarmad Muqbel, Dr. Saeed Khudaida and Khalid Rumy.
The meeting took place in Baharka IDP camp in Erbil on 18/12/2018, during which deliberations were held on the general situation of the minorities. Mr. William Warda discussed the issues of immigration and return, noting that minorities are concerned about their present and future because most of them live in the disputed areas between the two governments , The Federal government and the Regional government, indicating that the Regional government does not act as dictated by the administrative presence in these areas, because they fear that the mentioned areas return to the authority of the Federal government, and that the Federal government do not act as required by the national administrative duty because it is afraid of possibilities that these areas remain in the context of conflict and antagonism with the Regional government, and thus lost the rights of minorities and the obligations of the Iraqi state, but that cause lot of obstacles, service and municipal problems.
Mr. William Warda said in his speech during the meeting that what alleviates the problems and problems of minorities in the areas referred to is that international organizations move to support civil organizations in minority areas to fill the service gap and other rights and obligations, and stressed the increased support for organizations working for minorities on specific issues and issues from Which will improve their situation and realize their rights.
The members of the delegation of The Alliance of Iraqi Minorities Network made interventions on the situation of minorities and ways to support the issues of these components of Iraq away from the policies of containment and marginalization practiced by the large political components.